Time flies when you're living in a self-imposed creative wasteland.
It's been three months since my last real update and since then I've been to several plays including two musicals, seen a couple of fantastic musicians live listened to a lot of great new music, backed loads of kickstarter projects, watched some hockey but not as much as I would have liked, eaten in some nice restaurants, injured my foot, run a marathon and signed up for a second one, watched some really good films (and awesome videos), seen the batmobile, read some great books and a lot of short stories but written nothing.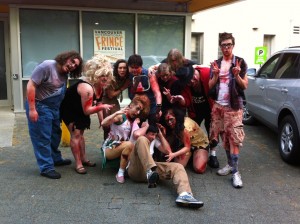 The Evil Dead Claim Another Victim*
However, a couple of weeks ago we went away to Desolation Sound for a short break to recharge and I ended up writing the first drafts of a couple of new stories – This is Not the Apocalypse You're Looking For and Artificial Wife.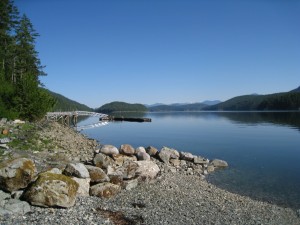 Desolation Sound
That burst of creativity (and the amazing location) swept away the cobwebs and since then I've been masterminding a plan to get writing back into my regular schedule.
The first step was to clear out all my almost finished stories so I've spent the last few days revising Origami Man, Rainshine and This is Not the Apocalypse You're Looking For and I'm pretty happy with the final drafts. I still have Artificial Wife, an old story – On His Bed of Books – and a story I wrote at Christmas, Fresh Things to go and then I'll have a clear plate. Those last three are a little troublesome and need more work than the others but I should be done by the weekend.
Then it's on to the rewrite of The Ghost Smuggler. Hopefully I'll be able to start that on Saturday. I haven't decided on my word count goal for the rewrite yet but I'll be trying to work on it every day although that could be a challenge; we're training for a half-marathon in a couple of weeks and start a full marathon training program shortly. Add that to regular visits to the gym and my day job and I'm going to be pressed for time. But that's a subject for another post.
*Victim not me.