Something interesting is happening next week. Or to be more precise, five interesting things are happening and they combine, like some literary Transformer, to create something very interesting – Apocalypse Weird is coming.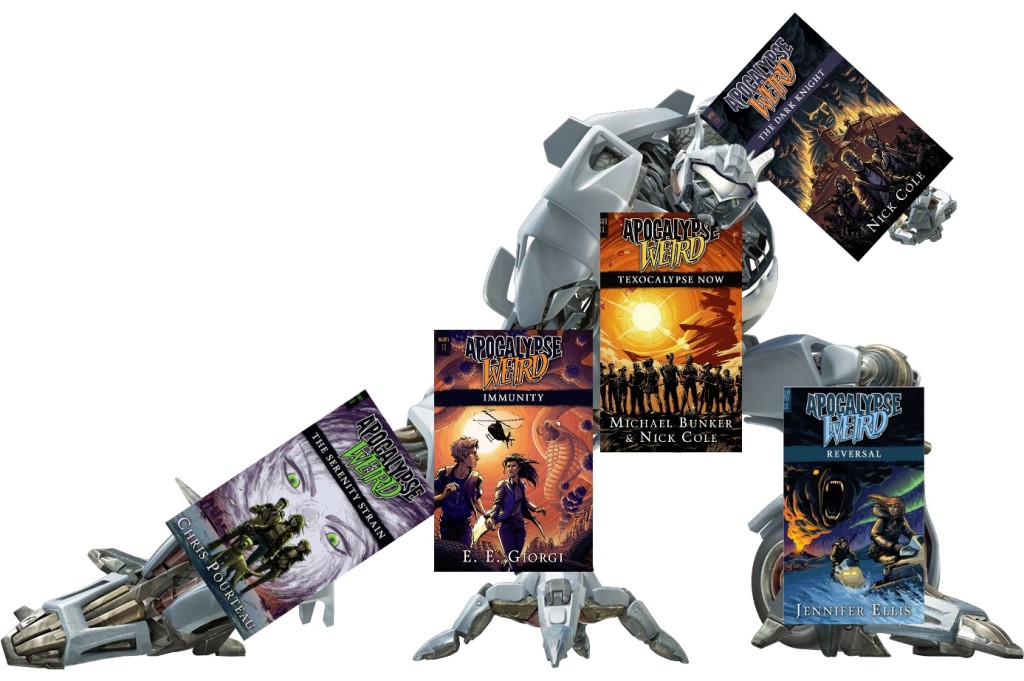 Apocalypse Weird is a shared world project featuring a series of novels, each with their own post-apocalyptic scenarios – everything from diet pill zombies to giant squid to gojira. But there's an underlying mythos that ties all of the books together. Over time, more and more will be revealed about the various players in the world of Apocalypse Weird until, eventually, the whole thing comes together in what will presumably be a cataclysmic finale of epic proportions.
The first Apocalypse Weird book, The Red King by Nick Cole, was released in November of last year as a taster but the big launch is on Monday, 23rd February, when five more books hit the streets:

Each book is part of an ongoing series, and there are more titles coming beyond these initial five including books by some of the best indie and traditional writers out there at the moment. After this first drop, the Apocalypse Weird team is planning on publishing at least two books a month – either sequels to these first titles or new series by other authors.
Apocalypse Weird is the brainchild of Nick Cole and Michael Bunker, and together with Rob McClellan (founder of author website service ThirdScribe) and Tim Grahl (marketer extraordinary), they've formed a company – Wonderment Media – with the goal of creating  a MARVEL-esque Universe of post-apocalyptic goodness.
Wonderment is even taking a structured approach to fan fiction – creating a concept called Apocalypse Weird: Survivors where authors can post the Apocalypse Weird fan fiction. Authors getting a good reader response from their Survivor stories may be tapped to join the ranks of the main series.
And they have a cool trailer.
I think
Apocalypse Weird
is interesting for a couple of reasons.
Firstly, the books.
I've read  The Red King and Texocalypse Now and enjoyed them both, and I've got the rest of the launch titles pre-ordered. Based on what I've seen so far, and the authors involved, I've got no reason to doubt that the quality of the Apocalypse Weird books will be high. And look at those covers. M.S. Corley has done a fantastic job. If I had more storage space I'd be starting a collection of Apocalypse Weird paperbacks right now (there's a danger that will happen anyway if Michael Bunker keeps showing off the books on YouTube).
But what makes Apocalypse Weird really interesting, is how ambitious the plans are and how, to me, it's an indication of the way things are going to go in the indie world.
As far as I know, this is the first time anyone has tried something this audacious in the indie sphere. The closest I can think of is the Wild Cards series by some guy called George R. R. Martin but that's traditionally published and doesn't have anywhere near the scope of Apocalypse Weird.
I'm really excited by the whole project. This is the indie world upping its game and encroaching on the world of big media, not just traditional publishing. In the future, I think more and more indie authors will start forming collectives or small publishing companies to leverage each others experience and skills. It's already happening in some places, but I can see it becoming a lot more common and a lot broader in scope.
I'm going to be watching Apocalypse Weird very closely to see what happens (and buying the books).
And I came up with an Apocalypse Weird scenario that's too much fun to ignore. So, now I'm already well over 10,000 words into a story I'm going to pitch to Wonderment.
Like all the cool kids, the Apocalypse Weird crew is having a launch event on Facebook.
It takes place on Monday, and this is the schedule (times are in PST)
2:00-3:00 PM: Chris Pourteau & Lesley Smith
3:00-4:00 PM: Nick Cole & Forbes West
4:00-5:00 PM: Hank Garner & Eric Tozzi
5:00-6:00 PM: Kim Wells
6:00-7:00 PM: E. E. Giorgi & Kevin G. Summers
7:00-8:00 PM: Michael Bunker & Stefan Bolz
8:00-9:00 PM: Jennifer Ellis & Chris Pourteau
You can join the event here.
There's also a really good interview with Nick Cole, Michael Bunker and Rob McClellan over at Hank Garner's The Author Stories Podcast.
 The Girl in the City is OUT NOW from Amazon for the low low price of 99c/99p (US UK Canada)
 Get a FREE copy of my short story, Only Friends by subscribing to my newsletter.
[
The Apocalypse is Coming and it's Weird 
by Philip Harris first appeared on
Solitary Mindset
on 21st February 2015]