After a brief laziness inspired hiatus, here's five things I learned last week. Make of them what you will.
There is a lizard sex satellite floating in space and Russia no longer has it under control (via The Washington Post) – If that's not the hook for a science fiction novel, I don't know what is. Dawn of the Planet of the Geckos anyone?
Sean Platt, Johnny B Truant and David Wright have launched Sterling & Stone – Inspired by HBO and similar companies, the NSFW overlords of The Self-Publishing Podcast and ultra-prolific authors have created an umbrella 'studio' for their various genre imprints.
Self-publishing is so easy even a four year old can do it – Okay his dad helped with the technical bits but the story was written and illustrated by him and that's what's important. It's a cracking tale as well, with a nice twist. Well worth 99 of your hard earned cents.
You can generate your own Lovecraftian writing prompt from here – There's a bunch of these but I like this one the best.
Rock legend, Midge Ure, is playing the Rickshaw Theatre in Vancouver in September – You can get your tickets here.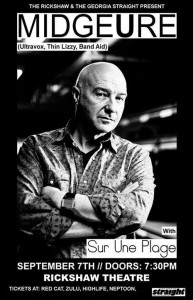 [
Five Things I Learned Last Week
 by Philip Harris first appeared on 
Solitary Mindset
 on 27th July 2014]