I finished a couple of books this week. Both were kindly sent to me by the authors for review prior to their release, and both of them are worth a look.
First up was Chris Pourteau's short story, Unconditional: A Tale of the Zombie Apocalypse.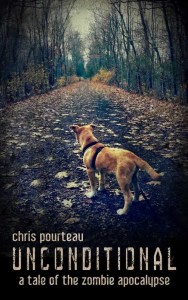 Here's the description:
The Walking Dead meets The Incredible Journey in this thrilling short story of trial and tragedy. The peaceful cool of a fall day is shattered when the Storm of Teeth consumes the world. A dog watches, terrified, as his human family battles a herd of walking corpses. Forced to leave their pet behind, the family flees for their lives. The dog begins his odyssey through the zombie apocalypse to find them. But what will he find? Experience this dark adventure from the perspective of man's best friend as he strives to reunite with the boy he loves more than life itself.
Unconditional is a short story, but it packs a punch, particularly if you're a dog person. I lean more towards the feline side of that equation but I had dogs growing up, and I've got a soft spot for them as well, so I was looking forward to this one. I wasn't disappointed. Great imagery and a strong ending.
Bonus points to Chris for not calling it Unconditional: A TAIL of the Zombie Apocalypse.
The world needs a sequel from a cat's perspective though.
Unconditional is available now.
The second book, Matthew Mather's Darknet, isn't released until 11th March. It's a technothriller set in the finance world.
Here's the description:
One minute Jake O'Connell is on top of the world with a beautiful family and bright future as a stock broker in New York. The next minute it's all ripped away when he's embroiled in a fraud investigation, his childhood friend is murdered and he finds himself on the run. Dodging the FBI and targeted by the mob, Jake is thrown into a Wall Street underworld of cryptocurrencies and autonomous corporations where he discovers a dark secret setting the world on a path to destruction. He must evade the shadowy forces hunting him and find a way to redemption–but the faster he runs, the deeper he becomes entangled. In the end, his only path forward is to return to the ghosts of his past.
Although I haven't read any of Mather's other books, I will be in the future. I really enjoyed Darknet. It's fast paced with plenty of twists and I kept finding myself picking it up to read when I should be doing things like sleeping. Mather weaves a lot of high-tech threads into the story, but they're all very plausible, and everything wraps up nicely. At times, the book reminded me of William Gibson's more recent books – it has the same sort of street-level perspective of future technology.
I don't read a lot of technothrillers, and my tech background can make them tough going if they're done badly. But Darknet was great and I picked up both The Atopia Chronicles and The Dystopia Chronicles on the strength of Darknet.
My next book will be a bit of a change of pace – a literary novel that's probably been sitting around on my shelf for over a decade, Negative Space by Zoe Strachan. It sounds like an interesting book, nice and bleak, but the main reason I picked it was to clear a bit of space on my shelves.
Then I'll be moving on to another ARC – Texocalypse Now by Nick Cole and Michael Bunker.
In the meantime, I'll be trying very hard not to buy even more books (ha!).
[
A Couple of Books
 by Philip Harris first appeared on
Solitary Mindset
on 17th January 2015]