My novella, Leah, now has a proper title – The Girl in the City – and a superb Jason Gurley cover.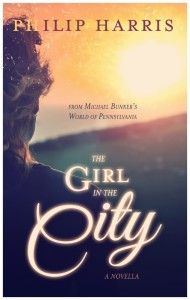 The Girl in the City is a science fiction novella, roughly 60 pages long.
Here's the description.
With the oppressive Transport Authority controlling every aspect of their existence, Leah and her father do what they can to carve a good life for themselves. Leah spends her nights scavenging in the rural zone around the City, risking capture by the Wild Ones as she hunts for salvage her father can trade for food and other essentials.
But when Leah takes a bag of salvage from a dying stranger, she and her father are drawn into the world of Transport and its war against the terrorist organization, TRACE.
A war that could cost them both their lives.
Those of you who've read Michael Bunker's Pennsylvania may recognise some of the elements of the story. That's because The Girl in the City is set in that world and runs parallel to some of the events in Michael's book.
Apart from an ill-advised piece of flash fiction set in Clive Barker's Hellraiser universe, this is the first time I've felt compelled to write in another author's setting. I had the idea for Leah's story shortly after reading Pennsylvania and it kept niggling at my subconscious until in the end I gave in a decided to write the damn thing. Michael kindly gave me permission to play in his world, and I'm really pleased with how the story turned out.
The Girl in the City will be my fourth indie release and will be available from Amazon from February 2nd, 2015. It will be an Amazon exclusive for three months, and then I'll release it on iBooks, Nook, Kobo etc.
A pre-order page for the book will go up later this week but in the meantime, if you're interested in getting an Advance Reading Copy prior to release, get in touch with me through Facebook or Twitter. All I ask in return is that you post an honest review on Amazon by the time the book's launched.
[Coming Soon – The Girl in the City by Philip Harris first appeared on Solitary Mindset on 11th January 2015]