Having said that the climate in Vancouver is pretty mild and we don't get much snow, we're now well into our third day of snowfall. I live downtown and it still hasn't really settled on the roads – there's some slush but not much else – but there is snow on higher ground and outside the city (maybe six inches in Burnaby where I work). The snow was supposed to turn to rain this afternoon but it didn't so we'll have to see what happens tomorrow. I've got a physio session in the morning but then I'll probably take transit to work, it's generally quicker and safer when there's snow around.
Anyway, word metrics.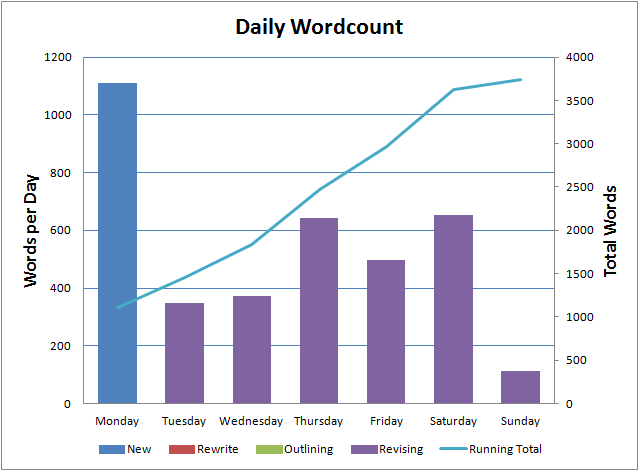 A disappointing 3,737 on The Ghost Smuggler last week. The slow progress is really down to the fact that I'm revising which means there's not a lot of new words but still, I'd hoped to get further.
I lost a few hours on Saturday because I was attending the WANACon online writing conference. I took part in five sessions including Mercedes M Yardley's session on Writing in Stolen Moments and a very timely session on revision by Gabriela Periera and Julie Duffy.
I missed the first day but all of the sessions were recorded and there's several more that look interesting. Either way, I got a lot out of the sessions I attended on the Saturday – very inspirational.
Sunday was particularly unproductive from a writing point of view. I've been sorting out some of my junk and I made the mistake of waiting until the evening and I was very tired after getting up early to watch the Olympic Hockey.
I tweeted:
Day 239 of my current #amwriting streak. I'm about 40% through my first revision pass. It's like wading through treacle.

— Philip Harris (@SolitaryMindset) February 24, 2014
That's a pretty good summary. It does mean I won't be completing this draft before my wife gets home on Sunday as I'd hoped. Never mind, hopefully this week will be better. [Metrics Monday – 24th February 2014 by Philip Harris first appeared on
Solitary Mindset
on 24th February 2014]