My new fantasy story , Origami Man, is up at Hogglepot.
This one started with the image of a man made out of newspaper talking to a newspaper boy. Initially it was going to be fairly lighthearted but it didn't really turn out that way in the end.
Despite the fact that I'm not running at the moment (that starts back up tomorrow morning), this week has been surprisingly busy – mostly with work. I did manage to scrape together a couple of writing sessions to finish off a new story – CAvE – and add just under two thousand words to The Ghost Smuggler. I'm now reaching the point where I'm doing more and more actual writing rather than just reworking content from the earlier drafts. I'll still be bringing some stuff over but from here on it's mostly new content hanging on the bones of the early draft.
That means I need to be a lot more disciplined about sitting down and writing. My goal is to get the first draft of the rewrite complete by the end of August so that I can be ready to pitch it at the Surrey International Writers' Conference in October. That's the goal anyway.
It's a long weekend here in Canada so I'm hoping to use that extra time to get my teeth back into writing and get some momentum. Unfortunately, I can hear Under the Dome calling to me.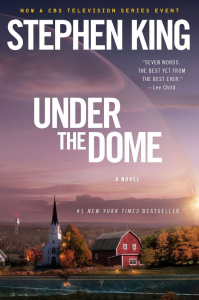 [
Out Now – Origami Man
 by Philip Harris originally appeared on 
Solitary Mindset
 on 18th May, 2013]