Despite Google Drive's best efforts, I wrapped up my fiftieth story on Wednesday – the Lovecraftian story I started on Valentine's Day – The Ordeal (Season One, Episode Thirteen).
I'm really happy with how it's turned out which is a relief; it would suck to hit that milestone with a story I hate.
Of those fifty stories, eighteen have been sold, four have been posted online in forums etc. and six of them are permanently consigned to the trunk. By my reckoning that leaves twenty two that I could still place.
I also wrapped up Dan Simmons' Drood yesterday.
Drood is a fictionalised account of the last few years of Charles Dickens' life, told by Dickens' friend, Wilkie Collins. Simmons' has cleverly interwoven events from Dickens' and Collins' real lives with supernatural elements to create a unique and compelling story.
The book is at its strongest when the mysterious and diabolical Drood (named after Dickens' last, unfinished, novel) is in the picture but at times it feels more like a dry biography than a novel. The first time I started reading Drood, I got a couple of pages in and then put it aside. Not because I didn't like what I was reading but because it was obvious this was going to be a good story, told slowly and I wanted something faster paced to read.
Now I've finished the book, I feel the same way. It's a good book, very cleverly written, but you'll need to be patient and not just because of its length.
Next up is Jeremy C. Shipp's short story collection – Sheep and Wolves.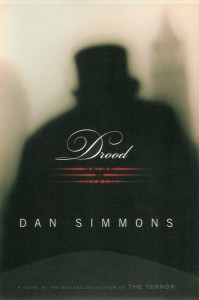 Drood by Dan Simmons
[The article
The Big Five-Oh
 by Philip Harris originally appeared on 
Solitary Mindset
 on March 23rd, 2013]