Crystal Lake Publishing is one of the best dark fiction and horror publishers in the biz. They consistently put out great books and have a number of Bram Stoker Award wins under their belt.
They also run a monthly flash fiction content on their Patreon page and in the past have published the winners and other stories that editor, Joe Mynhardt, likes in a series of anthologies called Shallow Waters.
The Shallow Waters series is coming to an end but to wrap things up, Crystal Lake have put together a paperback only collection of 100 stories from the Shallow Waters books. And I'm honoured to say that one of my stories is included.
Here's the description from the publisher:
Prepare to embark on a journey beyond the ordinary, where the unknown beckons and nightmares come to life.
Welcome to Shallow Waters, a mesmerizing horror anthology that plunges you deep into the chilling and murky depths of the human psyche. Within these pages, each flash fiction horror tale is a haunting revelation, a glimpse into the shadows that dance at the periphery of our consciousness.
What you hold in your hands are not just stories. They are the nightmarish visions and eerie dreams of the most talented finalists in Crystal Lake's Shallow Waters writing contest, hosted on their Patreon page.
Brace yourself to be unsettled, unnerved, and unequivocally captivated. Shallow Waters is not a book—it's a portal to the twisted, terrifying, and tantalizing world of flash fiction horror.
Includes stories by William Meikle, Mark Allan Gunnells, Dave Jeffery, Diana Olney, Richard Thomas, Guy Medley, Armand Rosamilia, Ben Lathrop, Red Lagoe, Taylor Grant, Chad Lutzke, R.B. Wood, Kevin Lucia, Jason Parent, Theresa Derwin, Naching T. Kassa, Kenneth W. Cain, Tom Deady, Loren Rhoads, Jonathan Winn, Francesca Maria, Karen Bayly, Tom Over, Dani Brown, Wil Dalton, Matt Bliss, Jonah Buck, Darryl Foster, Michael Harris Cohen, Joseph Mulak, Raymond Gates, Michael Patrick Hicks, Tim Meyer, Erica Ruppert, Roberta Codemo, David Bernard, Chloé Harper Gold, Lori Michelle, David J. Rank, L. F. Falconer, , Bryan Miller, Pedro Iniguez, Anthony D Redden, Sheldon Woodbury, Maxwell Marais, Michael O'Brien, Gregg Stewart, Michelle Mellon, Rhea Rose, Kim Mannix, Vivian Kasley, Rand Eastwood, Dan Weatherer, Andrew Garvey, R. Leigh Hennig, Madeline Mora-Summonte, Joseph VanBuren, Amanda Hard, Lee Smart, Jay Bechtol, Martin Aguilera, RJ Meldrum, Liam Hogan, Catherine McCarthy, Philip Harris, AJ Franks, Sunni Ellis, D.C. Phillips, Grant Longstaff, Madison McSweeney, Tom Coombe, Ken MacGregor, Amanda M. Blake, Jonathan Hyde, Andrew Martin Robinson, K. J. Shepherd, Evan Bond, Claire Davon, Jim Horlock, and Derek Clendening.
My story – A Bright New Future – is a dark little piece with a sting in its tale. It's hard to talk about without spoilers but here's the opening.
Eva tried to ignore Mr. Jackson's eyes, but she was drawn to them. She couldn't even say why. They were pale, yes, but not the palest she'd ever seen. They also seemed to be permanently narrowed but that wasn't it, either. They were just…hungry.
As part of my the generative AI baiting I've been doing over the months, I fed this story into ChatGPT and asked it to summarize it for me. To the surprise of no one it got it wrong. The results did provide an interesting view into the limitations of ChatGPT, though. At some point I'm going to post the results and talk about what went wrong.
In the meantime, check out the new Shallow Waters Paperback. I picked up a couple of copies for my archive and it's a really nicely put together collection with a whole host of fantastic stories to entertain you through spooky season.
You can find it on Amazon.com right here or other Amazon stores here.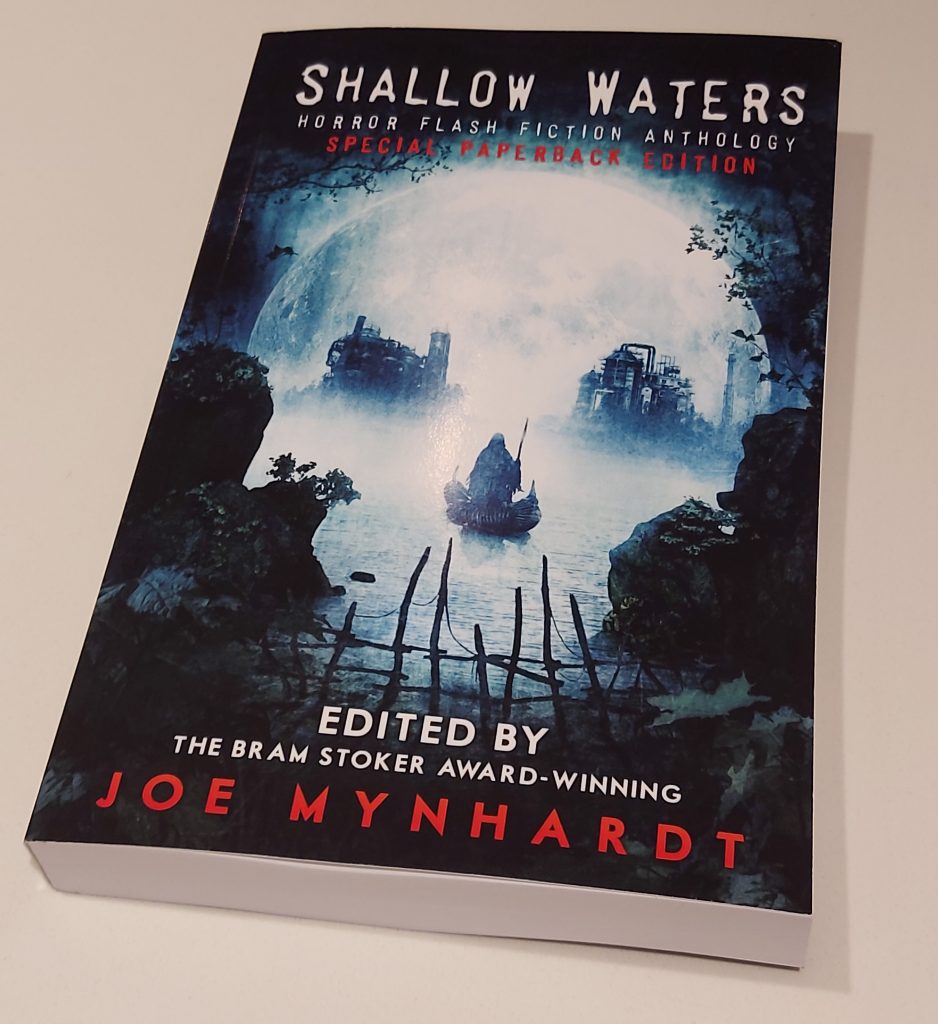 [
Out Now – Shallow Waters Paperback Edition
by Philip Harris first appeared on Solitary Mindset on 2nd October 2023]