To celebrate the launch of Serial Killer Z, I've got a bit of a zombie theme going on for this month and I've lined up a series of interviews with a few zombie authors. First up is Arthur Mongelli, author of Harvest of Ruin.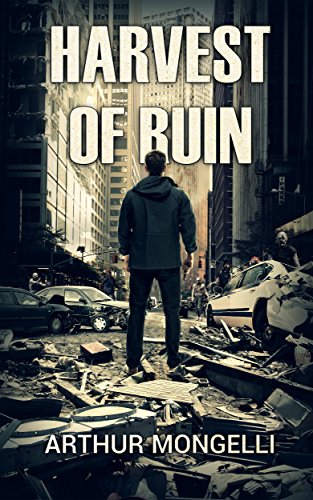 Hi, please introduce yourself and your writing…
Hi everyone! I'm Arthur Mongelli, author of Harvest of Ruin and the sequel, Harvest of Ruin: The Dead of Winter
Tell us about your zombie series…
Harvest follows a broad array of survivors as they navigate and struggle to stay alive. The bacterial infection that causes reanimation is as a result of industrial food production and strikes everywhere that receives shipments of frozen meat. The causes are of little consequence to the story, however, as the survivors find themselves in daily struggles to stay alive, keep their loved ones, and in Donner, their community alive.
Why do you write about zombies?
My obsession with the genre started at a young age. For me, the desire to write about them stemmed from my frustration with a lack of realism in the genre, as well as the story in my head. I also think there is a certain romance in the idea of survival. Zombies offer a world with no moral ambiguity, it's simple: survive or die.
Which Walking Dead character do you wish they'd kill off and why?
This is probably going to be a very unpopular opinion, but I have to say Rick. His character's hubris is the driving force behind his actions at this point. He is no longer the 'father-struggling-for-his-son' that he was the first few seasons. I don't think he has had a meaningful interaction with Carl in at least 2 seasons. He should have packed the group up and left Alexandria when Negan first arrived and disarmed them. Since then his motivations have been ego-driven and bordering on megalomaniacal.
What do you think the most likely cause of a real zombie plague would be?
Food. I used food as the mechanism in my own story. I think that the more we  relegate the responsibility of food production and distribution to big business and government, the more likely that something will go awry. From genetically engineering the feed, to manipulating the animals themselves for greater yield, to steady dosing of hormones and anitbiotics, irradiating and preserving to ship from across the world, something is bound to go wrong eventually.
Do you prefer fast or slow zombies, and why?
I love both. To be honest, I couldn't decide between the two, so it came down to "how do I include both and make it work in a believable way."  Each brings its own specific set of terrors to the reader.
Where in the world would you go if there was a zombie outbreak and why?
One of the biggest mistakes people make (or plan for) in surviving the apocalypse is their choice of bug-out location. Most people say Wal-Mart, Costco, supermarket, etc. The problem is that these places are where 90% of people are headed. I any disaster, not just zombies, the places that have the food are the WORST places to go. I would stay put at home for the first couple weeks. There is enough food, and with meager preparations, water to last that long easily. This would also give me an opportunity to see what is going on in the houses around me. Those that were empty would be where I would loot. Food, bottled water, siphon gas from parked vehicles, etc. As far as a long-term strategy, i think that Laura's idea in 'Harvest of Ruin' is idea:l take over a massive warehouse and garden on the rooftop.
What inspired to write your zombie book/series?
Becoming a parent. To me, having a child, something helpless and in need of constant attention and protection was the impetus. A small child also brings with it a new set of problems, crying jags, tantrums and such. So, for me, the idea was to create a story of families and individuals, filled with flawed, unheroic, realistic characters and shove them into a zombie apocalypse scenario.
Which of your books do you recommend readers start with?
Harvest of Ruin. The whole story is a trilogy and my plan is for the final book to be out by Spring of 2018.
Where can readers find you online?
Facebook: https://www.facebook.com/Harvest-of-Ruin-165675430622044/
Twitter: https://twitter.com/Arthur_M_author
Web: www.arthurmongelli.com
About Arthur Mongelli
Arthur Mongelli is a lifelong fan of apocalyptic fiction. When his career fell apart in his late 30's he found himself thrust into the role of stay-at-home father. He began to while away the hours of nap-time by plucking away at his keyboard. His writing began in earnest in late 2015 and Harvest of Ruin found a home with Severed Press in early 2017. Harvest of Ruin, his own contribution to the zombie genre, is a story in three parts and is scheduled to be released in its entirety by the spring of 2018. The sequel to Harvest of Ruin, Harvest of Ruin: The Dead of Winter was published in September, 2017 and a story that ties into his world, entitled Jimmy, is included in the Undead Worlds anthology which is set for release in October, 2017. Arthur and his family live in the Hudson Valley of New York State.
I'm one of a whole bunch of authors taking part in an October Frights themed blog hop at the moment.
Click on the image for links to the other authors taking part.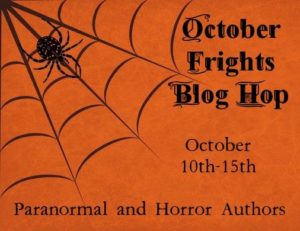 [
Zombie Q&A: Arthur Mongelli 
by Philip Harris first appeared on Solitary Mindset on 14th October 2017]