For my third UnCommon Bodies interview, I'm talking to Keira Michelle Telford about her dark erotic story, All the Devils.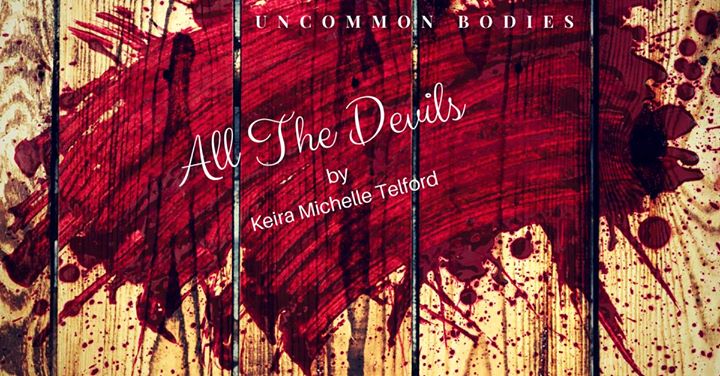 What attracted you to the UnCommon Bodies project?
There aren't many projects that welcome the particular uncommon body I like to write about! When I saw the call for submissions for UnCommon Bodies, I nearly peed myself with excitement. Usually I'm too weird for people. But in UnCommon Bodies, I fit right in! 🙂
Tell us about your lead character, what makes them UnCommon?
My lead character is a futa woman, which means she has a fully functioning penis in addition to her vagina.
What inspired you to write All the Devils?
Futanari fascinates me. I think there's a lot of potential in the subject matter, and I believe I'm writing it in a unique way. I don't know of any other authors who are truly incorporating it into lesbian romance and erotica in an authentically lesbian-oriented way, and this is something I've always wanted to explore.
What are you most proud of about the story?
The futanari genre (if one can call it a genre all unto itself) is saturated with bad erotica. Futa women are usually written as a kink or a fetish, and are quite often poorly characterized. Although they are meant to be women, they are typically written with exaggerated, stereotypically masculine behavioural characteristics. They become creatures whose motives are entirely directed by their altered anatomies, and as far as I'm concerned, anyone who writes futanari that way is completely missing the point. What I am most proud of in All the Devils (and my other futa work) is that my women are, first and foremost, real women. Their unusual anatomies are not reduced to a fetish. They are treated with the utmost realism.
Once readers have read your story, which of your books/stories should they read next?
Definitely Come, My Pet. It's my first full-length futanari story (an erotic romance), featuring a coven of lesbian witches. It's available globally on Amazon as an ebook and in paperback. I have another full length futanari story, The Queen's Consort, coming out in early 2016.
About Keira Michelle Telford
Keira Michelle Telford is an award-winning author with a love for the gruesome, the macabre, and the downright filthy. She writes dystopian science fiction, erotic lesbian romance, and other lesbian fiction.  
Website: http://www.keiramichelle.com
Facebook: http://www.facebook.com/keiramichelletelford
Goodreads: http://www.goodreads.com/keiramichelle
Amazon: http://www.amazon.com/author/keiramichelle
Check back Monday for the next UnCommon Bodies interview.
You can find out more about my upcoming releases, and get four FREE books by signing up for my newsletter here.
[
UnCommon Bodies Q&A: Keira Michelle Telford 
by Philip Harris first appeared on
Solitary Mindset
on 12th November 2015]