Earlier in the month, The Leighgendarium posted an interview with me and as part of the feature I ran a giveaway for a free copy of Glitch Mitchell and the Unseen Planet. Entry to the giveaway involved inventing a cliffhanger involving Glitch that I would then use to write a new short story. I picked a winner at random and ended up with Glitch being trapped in Donald Trump's hair!
After some deliberation, I spent last Monday writing Glitch Mitchell and the Deadly Follicle and it was posted on The Leighgendarium on Friday.
If you'd like to know how Glitch, Anderson and Doctor Zheng ended up in such a dire situation, and if they manage to escape – you can read the story here.
It was a lot of fun to write, and hopefully as much fun to read.
For a limited time you can pick up Glitch Mitchell and the Unseen Planet on all ebook platforms including Amazon US, Amazon UK, Amazon Canada, Kobo, Nook and iBooks for just 99c. The paperback edition is also as cheap as I can make it – $10.95.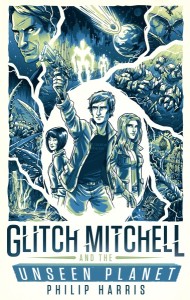 You can find out more about my upcoming releases, and get four FREE books by signing up for my newsletter here.
[
Out Now – Glitch Mitchell and the Deadly Follicle 
by Philip Harris first appeared on
Solitary Mindset
on 13th September 2015]