It's been two weeks since I released Glitch Mitchell and the Unseen Planet and to say the launch has surpassed my expectations would be a huge understatement.
Marathon runners tend to have two goal times for each race – one they see as feasible and one that is their secret dream goal. I had the same thing for Glitch, one lifetime sales target that seemed reasonable and then a second, higher number that seemed unlikely. I'm pleased to say Unseen Planet blew past both those goals and today hit double my higher "dream" number and got up to number 10 in Amazon's Teen/YA Alien Science Fiction chart – a feat I'm very happy to have achieved given that every other book in the top 20 is part of a series.
Even my decision to go wide and sell the book on all platforms has turned out pretty well with about 15% of sales coming from iBook, Nook and Kobo. That includes one copy sold in Australia and another in New Zealand – both firsts for me as far as I know (thanks Kobo).
If you missed it, I did a fun interview at the Leighgendarium. As part of that, I ran a contest to win a copy of the paperback edition of Unseen Planet. To win you had to submit a cliffhanger for Glitch to face and I would write a story around the winner's suggestion. The winner, reesekgreese2010, proposed Glitch get trapped in Donald Trump's hair so I spent a big chunk of yesterday writing a new Glitch story. I've just submitted it to the Leighgendarium and with a bit of luck it should be posted there on Friday.
I have a couple more interviews coming up – one on Tash McAdam's blog and a podcast interview on Hank Garner's fantastic Author Stories podcast.
What's next for Glitch and co?
At the moment I don't have specific plans to write another Glitch Mitchell book but if it continues to prove popular that may change – I have plenty of ideas and it was a fun book to write. Either way, there is definitely another short story coming. This one will be released next year in a very cool anthology that I'm incredibly excited to be part of. More on that nearer the release date.
So, a huge thank you to everyone who supported the launch by buying or talking about the book – you've made this author very happy indeed.
For a limited time you can pick Glitch Mitchell and the Unseen Planet up on all ebook platforms including Amazon US, Amazon UK, Amazon Canada, Kobo, Nook and iBooks for just 99c. The paperback edition is also as cheap as I can make it – $10.95.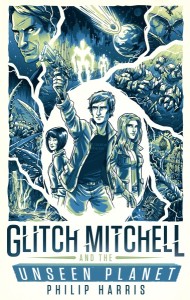 You can find out more about my upcoming releases, and get four FREE books by signing up for my newsletter here.
[
So Far So Good 
by Philip Harris first appeared on
Solitary Mindset
on 8th September 2015]