No, that's not the title for my next book.
The proof copies of the print edition of Glitch Mitchell and the Unseen Planet arrived yesterday and they are fantastic.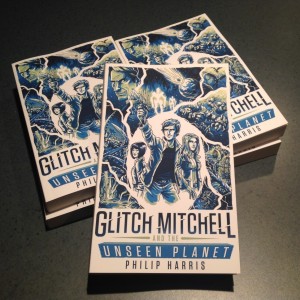 I wasn't expecting the books until Friday at the earliest so they came as a bit of a surprise. I resisted the temptation to open them while I was at work and held off until I got home so that my wife could be there for the big event.
I must admit, I was getting a bit blasé about the book. Glitch has been through 6-7 drafts plus two editors and three proofreaders plus several rounds of tweaks during the formatting process. I've spent so long with the book now that it hadn't really sunk in that I was actually going to be holding the book in my hands.
And then I opened the box and took out the first copy. I just stood there staring at it, grinning like idiot, for ages. Then I put it down. Then I picked it up again and grinned even more.
The books are beautiful, Mike Corley's cover is even more impressive in real life than it is on a computer screen, the matt cover feels great and the interior layout is perfect. In short, it's at least as good as the other books I have on my shelf.
I hardly slept last night, my head was buzzing (not helped by the fact that I got the first concept for a the cover of the zombie book and it's stunning).
I've been working on Glitch for two years (on and off) and for a while I wasn't planning on ever releasing it as a print book. Now I'm really glad I changed my mind.
Glitch Mitchell and the Unseen Planet will be available on Kindle, Kobo, iBooks and Nook on 25th August with the print edition following shortly afterwards.
For a limited time, I'm giving everyone who signs up to my mailing list 4 free books.
Glitch Going Wide 
by Philip Harris first appeared on
Solitary Mindset
on 21st August 2015]