ToDAY is the DAY Felicia DAY's book comes out!
Do you see what I did there? Clever, huh? No? Okay, whatever.
Felicia Day is one of the most well known women in geekdom – from the early days of The Guild to the launch of the Geek and Sundry YouTube channel in 2012, Felicia has flown her geek flag high.
Now she's written a memoir – You're Never Weird on the Internet (Almost). I preordered the audio book a while ago, and I'll be listening to it as soon as I finish up The Martian.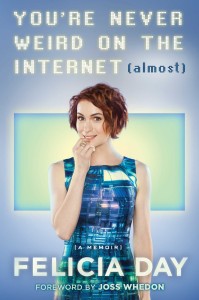 A few days ago Felicia posted a video on her Facebook page with her thoughts on being yourself and it really struck a chord with me. And it features potatoes and I'm reading The Martian which also features potatoes so there's that, too.
Anyway, here it is, and it's well worth 3 minutes 35 seconds of your time.
[
Embrace Your Weird 
by Philip Harris first appeared on
Solitary Mindset
on 11th August 2015]