A while ago I read a short story by David Bruns called I, Caroline.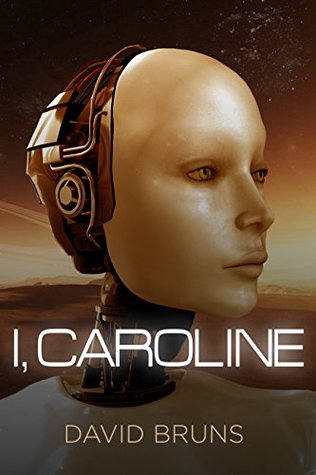 It's a well written, emotional tale and I really enjoyed it. I've read several other short stories by David and they've been very good. He also has a several full length novels out including The Dream Guild Chronicles series and they're sitting in my to be read pile.
Now David has teamed up with J. R. Olson (graduates of the US Naval Academy with a combined 35 years of service in the US Navy) and they've release a military thriller – Weapons of Mass Deception.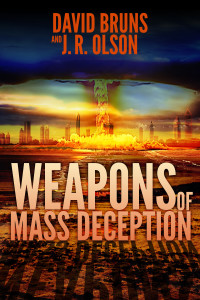 Here's some info on the book…
A military thriller by two US Navy veterans that could be ripped from today's headlines
Patriot Games meets The Fourth Protocol in this riveting story of modern-day nuclear terrorism.
In 2003, the world watched as coalition forces toppled Iraqi dictator Saddam Hussein, then searched—unsuccessfully—for the weapons of mass destruction they were certain existed.
None were ever found, but they do exist. On the eve of the invasion, a handful of nuclear weapons was smuggled out of Iraq and hidden in the most unlikely of places—Iran.
Now, as the threat of WMDs fades into a late-night punch line, a shadowy Iranian faction waits for the perfect moment to unleash Saddam Hussein's nuclear legacy on the West.
Brendan McHugh, a Navy SEAL, meets a mysterious Iranian diplomat on a raid in Iraq. His former girlfriend and FBI linguist discovers a link to Iran among a group of captured jihadis. And pulling it all together is a CIA analyst who can't forget about Saddam Hussein's WMDs—even if it costs him his career.
What the reviewers are saying
"Fans of Tom Clancy, Vince Flynn, or Nelson DeMille should feel right at home with this story of lost nukes, Navy SEALS, intelligence agency operatives, and up-to-minute global politics."
"An intense, wild ride, hang on to your hats."
"WMD weaves global politics and fundamentalism with love and hard-hitting action, all against a backdrop of real-world events. A…scary exploration of what might have been!"
"A visual page-turner, WMD is art that imitates life."
I haven't read Weapons of Mass Deception yet but everything I've read of David's has been excellent and I'll definitely be checking this out. It's available on Amazon and Barnes and Noble
Oh, you can get a free copy of another good short story by David, The Collector, by signing up for his newsletter or get a FREE copy of my short story, Only Friends by subscribing to my newsletter.
In fact, why don't you sign up to both, you know you want to.
[
Weapons of Mass Deception by David Bruns and JR Olson 
by Philip Harris first appeared on
Solitary Mindset
on 16th May 2015]