Last Monday was a day of highs and lows. It started off with one of the quickest rejections I've ever received – just under twelve hours. But it ended with news from Nick Cole that the Apocalypse Weird team had accepted my pitch for a novel set in London.
Or to put it another way, I have a novel coming out!
To say I was pleased is an understatement. Apocalypse Weird is an ambitious, exciting concept and the team at Wonderment Media are some of the nicest, smartest people you could hope to work with. But more than that, this is a huge milestone in my writing journey.
This summer will mark the 20th anniversary of my first publication – Only Friends, a piece of what we would now call flash fiction that appeared in the award winning magazine, Peeping Tom. I've been writing, on and off, for even longer than that – probably 25 years. But over the last four years I've really been focusing on my craft and putting in the hours to be the best writer I can.
I like to think I'm doing pretty well, I've had over 20 short stories published and the reaction to my self-published work, especially The Girl in the City, has been outstanding. Now I get to see a novel I've written published. That's something I didn't think would ever happen. I keep breaking out into a huge grin like some sort of lunatic as the reality of what's happened sinks in. It really is one of those "dream come true" moments.
I'm still planning on self-publishing my own novels but joining the Apocalypse Weird stable of authors is a real privilege. I respect and admire both Nick Cole and Michael Bunker and their work, and the Apocalypse Weird novels I've read so far have been superb. I've got a lot to live up to.
What's this Apocalypse Weird thing?
Apocalypse Weird is a shared world project created by Nick Cole, Michael Bunker, Rob McClellan and Tim Grahl. It's made up of a series of novels, each with their own post-apocalyptic worlds – everything from diet pill zombies to giant squid to gojira. But there's an underlying mythos that ties all of the books together. Over time, more and more will be revealed about the various players in the world of Apocalypse Weird until, eventually, the whole thing comes together in what will presumably be a cataclysmic finale of epic proportions. Now I've joined the project I've been able to see behind the scenes and there's some very cool stuff on the way.
So far, eight books have been published, with two more dropping every month. You can find them all on Amazon or your favourite online book retailer. You can find my other Apocalypse Weird posts here and there's a Facebook group dedicated to the project.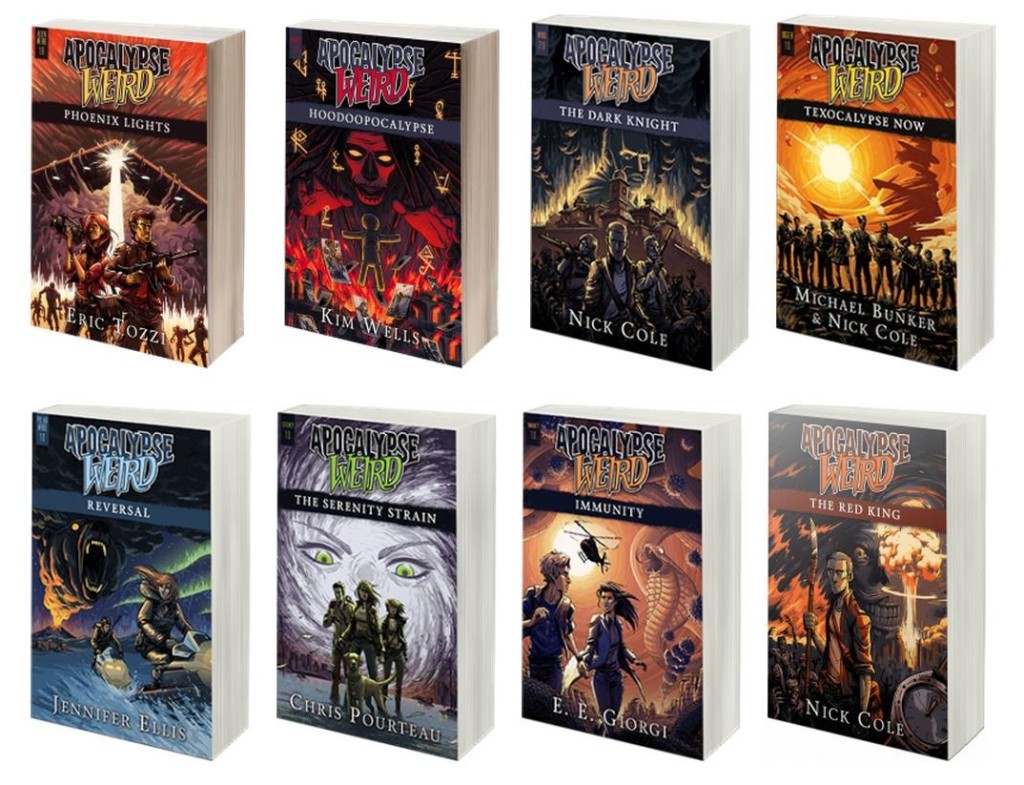 So, what's your book about?
Well, the actual pitch to Wonderment was a full outline of the novel, but I'd previously posted a four sentence pitch during the Apocalypse Weird launch event on Facebook.
Here it is:
When the demonic temptress, Siren, comes ashore, she brings with her a monstrous horde and an endless storm that threatens to drown the world. But there are worse things than Siren and her blasphemous army – things that lurk beneath the earth, waiting for their disciples to unleash them to wreak havoc on the unlucky few who survived the blindness.
Searching London for his missing girlfriend, drug addict Max Black must face Siren and his own personal demons to make an impossible decision – run and lose everything he loves or join Siren and risk condemning humanity to hell.
Rosemary's Baby meets Escape From New York as one man struggles to save his girlfriend while brutal gangs, insane cultists and demonic creatures tear London apart around him.
The working title for the book is Siren's Call. No definite publication date yet, but it looks like it should be sometime this year.
What about your self-published novels?
My first full length self-published book – Glitch Mitchell and the Unseen Planet – is still planned for this year. It's currently out with an editor. My revisions will have to wait until the first draft of Siren's Call is finished though, so Glitch will be delayed for a few months.
I was planning to release three more novels this year but that seems unlikely now, we'll just have to see.
How can I keep up to date with progress on Siren's Call?
I'm glad you asked. I haven't been posting weekly metrics here for a while, but I'm going to reinstate a weekly post on the progress of the novel. Updates will appear on Mondays (generally).
I actually came up with the idea in early February and liked it so much that I immediately started writing. If Wonderment didn't like the pitch, I was going to write it as a non-Apocalypse Weird novel. So, the first draft is currently sitting at a healthy 24,607 words. The target word count is in the 55-75,000 word range.
I'm having a fantastic time writing this story, the words just fly off my fingers every time I sit down to write. I hope you'll join me for the ride.
 Get a FREE copy of my short story, Only Friends by subscribing to my newsletter.
[
Joining the Apocalypse
by Philip Harris first appeared on
Solitary Mindset
on 23rd March 2015]