It's been a while since my last post. I guess time flies when you're having fun. Or in my case – time flies when you're having a root canal retreatment.
My day job, a running injury, the aforementioned root canal and a whole load of editing of Leah may have curtailed my blogging but the writing streak continues. Although my daily word count numbers have dropped significantly because I've been revising and editing, I'm currently at 533 days with no plans to stop.
Over the last couple of weeks, I've made the last few revisions to Leah, wrapped up the first draft of Reg vs the Martians and started a couple of new chapters that will replace a chapter in Glitch that I've never been happy with. I'm not convinced this new stuff is much of an improvement but it's definitely a step in the right direction. I'll probably rewrite it again next year.
I also outlined the sequel to The Zombie Book (working title). I'm heading off to England next week and I had originally planned to spend some time on the final revisions of Glitch. But I've come to the conclusion that editing on the road doesn't really work for me so I'll be kicking off the zombie sequel instead.
As for Leah, it's going off for a final proofread today, ready to be released towards the end of January/early February. More details on that soon.
Despite all the distractions, I've managed to cram in a few films (The Lego Movie, Mockingjay, In the Electric Mist, Larry Crowne, American Gigolo, The Place Beyond the Pines and Don Jon) and some reading.
I wrapped up Sean Platt and Johnny B Truant's "literary mindbender", Axis of Aaron which was good but it's fairly slow moving so bear that in mind, a very nice piece of Pennsylvania fan fiction from David Bruns called The Yesterday Adjustment and Hugh Howey's The Walk Up Nameless Ridge which was fantastic. I read it early one morning in an attempt to fight off Captain Insomnia but that was a huge mistake. It was far too well written, far too interesting for me to put down. It's short, but it's definitely going to feature in my top five books for this year.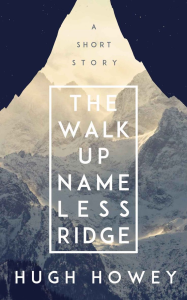 I also read an ARC of Nick Cole's The Red King but that's a topic for another day. For now, I'll just say that I enjoyed it.
Now, I'm on to Christa Charter's first Lexy Cooper book, Schooled. It's not my normal sort of book (I picked it up because it's set in the videogame industry) but it's been fun so far.
Oh, and I also got a very nice new laptop – the Lenovo Yoga 2 Pro – but, bizarrely, using it makes me feel ill so I'l be (very reluctantly) returning it.
Don't forget, I have three short stories available on Kindle at the moment – a science fiction story called Bottled Lightning, an urban fantasy story called Saviour and Curfew, a supernatural thriller. I need to pay for that trip to England somehow.
[
Still Alive, Still Writing
 by Philip Harris first appeared on 
Solitary Mindset
 on 14th December 2014]