We recently watched the first season of the BBC zombie TV show, In The Flesh.
Set after "The Rising" it's the story of reanimated teenager, Kieren Walker. Thanks to a drug that allows the undead to lead a largely normal existence, Kieren returns to his home village, Roarton, and his family. But as a sufferer of Partially Deceased Syndrome (PDS) he struggles to deal with traumatic flashbacks from his time as a zombie and the prejudices of the inhabitants of Roarton.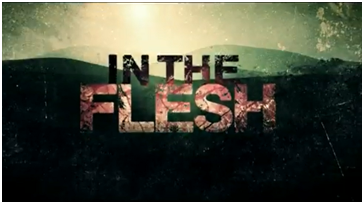 This is the latest of several UK TV genre shows we've watched (the others being Dead Set and Utopia) and although I enjoyed it, I wasn't as impressed with it as I was those shows.
There's lots to like about it – pretty strong acting, interesting characters, some good dialogue and an interesting twist or two. But the prejudice elements felt a little bit too heavy handed at times, hearkening right back to the early 20th century racial segregation rather than reflecting the more subtle and insidious prejudice that we generally see today.
It also felt a bit unfinished. There is a second series comprising six episodes instead of three and the main threads are tied up in Season One but the first episode kicks off what looks like a major sub-plot which is then largely ignored. Presumably, it's covered in the second series and I have no problem with having cross-season plot lines but this one just didn't work for me. It felt more like the first third of a single season rather than a complete season in itself.
So, all in all, not a bad show and we'll watch the second season at some point, but I'd recommend Dead Set or Utopia over In The Flesh. But it does have Kenneth Cranham in it, which is always a good thing.
[
In the Flesh Season One
 by Philip Harris first appeared on 
Solitary Mindset
 on 7th August 2014]