This week's Saturday evening movie was the comic book adaptation – R.I.P.D.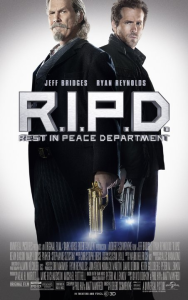 If you've paid any attention to the reviews or online commentary around R.I.P.D. you'll know it shares a lot of similarities with Men in Black. Replace Tommy Lee Jones with Jeff Bridges, Will Smith with Ryan Reynolds and aliens with the undead (known as 'deados') and you're pretty much set.
We picked it because a) it was first on the list of films on our PVR and b) we were both feeling under the weather and didn't want anything too taxing. It fit the bill nicely and I actually enjoyed it at least as much as the original Men in Black. Yes, it was predictable, the 3D-ness was annoying in places and the cumin thing was a bit too random to be funny but we laughed more than once and forgot we were feeling crappy for an hour and a half which was really the point.
[
R.I.P.D.
by Philip Harris first appeared on Solitary Mindset on 15th June 2014]