Today is Pennsylvania book bomb day.
That's nice. What's a book bomb? Well, it's a concerted effort to sell as many copies of a book as possible in a single day – usually launch day. The goal, apart from selling those copies, is to get as much visibility for the book as possible. The more sales a book gets the higher it climbs in the rankings on Amazon and other places and the more people will see it. That kind of visibility is the lifeblood of indie authors that don't have the marketing muscle of the big publishers behind them.
Okay, so what's Pennsylvania? I'm glad you asked. Pennsylvania is Michael Bunker's Amish science fiction novel and the book that taught me how to spell Pennsylvania.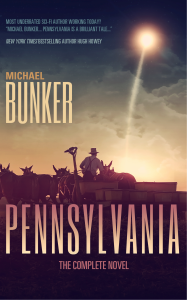 Originally published as a series of five individual books, he's now put together an omnibus edition and today is launch day. Which is where the book bomb comes in – Michael is looking to sell 500 copies across both paperback and ebook in one day.
I read the individual volumes earlier this year and really enjoyed them so I'll be doing my part by picking up the print copy of the book. I'm looking forward to seeing it. As I mentioned in a previous post, Michael has set out to create the highest quality indie book he could and by looks of it, he's done a great job.
He's also put out a book trailer.
So, if you're interested in adding a bit of Amish to your science fiction, give Pennsylvania a try. You can get it from Amazon here or Michael has a page with links to all the other retailers here. Oh, and if you buy the paperback from Amazon.com (and maybe the other flavours of Amazon, I'm not sure) you can use their Matchbook program to get the ebook for 99c (which means you get both physical and e books for less than the retail price of the paperback on its own).
Now I'm going to head out and order my copy and I'll be keeping an eye on Michael's Facebook fan page – The AZ – during the day to see how things are going.
[
Pennsylvania Book Bomb
by Philip Harris first appeared on Solitary Mindset on 29th April 2014]