I'm very pleased to announce that I'm appearing alongside a whole host of fantastic writers in the latest Anthology of European SF.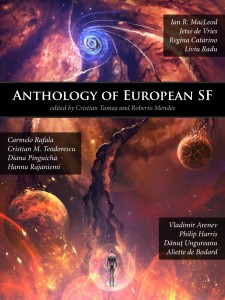 This one was a bit of a surprise. The anthology was released as part of EuroCon 2013 in Kiev and I wasn't sure whether my story, Only Friends, would be included until a couple of days before the anthology was released.
There's lots of great authors in the collection – here's the full table of contents:
"The Dead Orchards" by Ian R. MacLeod (England)
"Transcendent Express" by Jetse de Vries (Netherlands)
"Memory Recall" by Regina Catarina (Portugal)
"Digits are Cold, Numbers are Warm" by Liviu Radu (Romania)
"Repeat Performances" by Car Rafala (Italy)
"Bing Bing Larissa" by Cristian Mihail Teodorescu (Romania)
"Rebellion" by Diana Pinguicha (Portugal)
"The Server and the Dragon" by Hannu Rajaniemi (Finland)
"The Royal Library" by Vladimir Arenev (Ukraine)
"Only Friends" by Philip Harris (England)
"Starsong" by Aliette de Bodard (France)
"News from a Dwarf Universe" by Danut Ungureanu (Romania)
You can download the anthology for free from here but only until May 10th. I'm not sure if it will be available after that time so if you want some great fiction from some great authors (and me), grab it now before it's gone.
[The article
Out Now – Only Friends
by Philip Harris originally appeared on Solitary Mindset on April 22nd, 2013]