For most people in Canada, Thanksgiving Weekend means family, friends and lots of food. For my wife and I, it meant the Victoria Marathon weekend and the culmination of our latest marathon training regime.
We arrived on Friday, a day earlier than in the past and spent the afternoon checking in, picking up our race numbers, trying out a few free samples and spending far too much money on new running shirts. That left Saturday free for us to see some of the speakers at the expo and take a bus tour of the marathon route.
The first speaker we saw, Lucy Smith, gave a very enjoyable talk that spanned a broad range of topics – from training in Madeira to what motivates the children she teaches to the changing face of running technology. Lucy was followed by Dr Trent Stellingwerff who managed to make a science filled talk on nutrition very accessible, not to mention useful.
Next up was renowned race announcer Steve King (no, he doesn't write horror novels) interviewing three Olympians –  1500-metre runner Hilary Stellingwerff (wife of Dr Trent Stellingwerff), two-time Olympic medalist, triathlete Simon Whitfield and 2012 Bronze medalist, track cyclist Tara Whitten. This was the highlight of the speaker series for me and made me glad we'd taken the time to attend. All three of them have faced tremendous disappointment  in their careers and it was very inspirational to hear how they overcame those challenges to continue competing.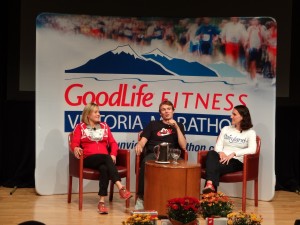 Hilary Stellingwerff, Simon Whitfield and Tara Whitten
We also managed to see most of a talk by Gregory Marchand – author of 
Open Heart Runner
. Gregory collapsed from a heart attack at the end of an 8km race and his heart stopped beating for 20 minutes before paramedics restarted it. The book is the incredible story of his collapse, his battle against brain damage and his return to running and watching him up on stage talking about his ordeal it was hard to believe how close he'd come to dying.
Although we've run the Victoria Half-Marathon twice, and the marathon course follows the same route initially, the remaining 21.1km was new to us. Rather than run 'blind' we decided to take the bus tour of the full marathon route – and we were glad we did. It turns out the extended route of the marathon includes several significant hills and thanks to the tour we were a little more prepared for them when race day arrived. We also got to see some masterful bus driving as "Tiny" navigated a very big coach around some very tight corners.
Saturday evening was spent reading and trying to relax and get as much sleep as possible. It didn't really work, I woke up at 1:15 and never really got back to sleep properly.
Beautiful clear blue skies greeted us as we made our way to the start line and we were feeling pretty positive about the race. Of course, I didn't know at the time that those clear skies would come back to haunt me.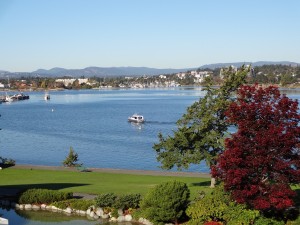 A View of Victoria from our Hotel
I'd spent Friday morning planning a race strategy. We'd start the race slowly, around 7 minutes per kilometer and then after 5km slowly ramp up to about 6 minutes per kilometer. That would put us on pace for a 4 hour 30 minute time. It was an aggressive goal but we'd decided to aim high rather than finish the race feeling we could have done more.
We arrived at the start line just as the national anthem was being sung and took up our position in the middle of the pack. One last check of my shoes and heart rate monitor as the wheelchair racers got underway and then it was our turn.
After sixteen weeks of training, the race was on.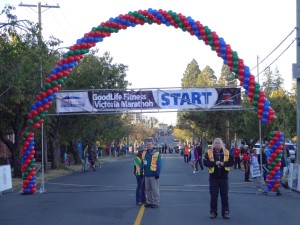 The Beginning of it All
We started off a little bit faster than we'd planned – about 6:45 per kilometer – but I was feeling very comfortable and we hit the halfway point a couple of minutes ahead of schedule at 2:14:06 but gradually, as the kilometers ticked by, I started to feel ill. It was nowhere near as bad as in the Vancouver marathon but still, I was walking (or running) a fine line between throwing up and not.
Marathon runners of all abilities will tell you that it's the last 10km or so that are really tough. Up to that point your body generally has enough energy stored to keep you going at a reasonable pace. To get beyond 30km, you need to fuel your body properly. You also need electrolytes and of course water.
There are all sorts of tests and calculations you can do work out how much energy you need to fuel your run – in my case I need about 1g of carbs per minute of running in order to replace about 60% of the energy I'm burning. I use Honey Stinger energy chews to get the carbs and electrolytes and then carry water as well as drinking at the aid stations. Ann and I run "tens and ones" which is basically a technique where you take a one minute walk break after every ten minutes of running. It's an effective way to conserve energy and gives you an opportunity to eat your chews or gels and grab some water without throwing them all over your face or tripping over your own feet.
Of course, the last thing you want to do if your feeling ill is eat chewy blobs of sugar. So, I decided I'd slow down my carb intake while my stomach settled and skip the chews on my next walk break.
Bad idea…I forgot to start taking them again.
We reached the 30km mark in 3:10:11 which for us was an excellent time and we'd made it through most of the hills but it was midday by this point and it was getting pretty hot for an autumn day in BC. I was starting to tire and my pace dropped off from around 6 minutes per km to between 7 and 8. The walk breaks also got a little bit longer as I struggled to drink enough water without recolouring the road or the nearby runners. I still felt a lot better than Vancouver and I kept pushing as hard as I could.
I always find the last few kilometers of a race really drag on, particularly in Victoria where there are four or five corners in the last kilometer before you reach the two hundred meter "finishing straight", but eventually we made it to the finish in a very respectable 4 hours, 41 minutes and 24 seconds – 48 minutes quicker than our first marathon in Vancouver.
After the finish line and the medals it's time to grab some recovery food – in my case a bagel and a cookie (there were also doughnuts and bananas). I also picked up some milkshake but by this point they'd run out of chocolate flavour (good) and only had vanilla (bad). Luckily we managed to snag some chocolate milk on the way back to the hotel instead.
Food in hand I made my way to a nearby wall as quickly as possible and sat down. We met some people from our training clinic and I sat there, trying to make a bit of conversation without throwing up on their feet. Eventually, Ann retrieved our bags and we walked very slowly back to the hotel. I spent most of the afternoon lying on the bed, sipping water and trying to rehydrate before heading out for a quiet meal.
Overall the race went well and we were very pleased with our time. I still didn't get the nutrition right – I was dehydrated by the end and only ate about 40% of the carbs I was supposed to – but that's something to work on for the Vancouver marathon next May.
What's more, I managed to get in a lot of reading on the journey to and from Victoria and while recovering from the race. But that's a story for another day.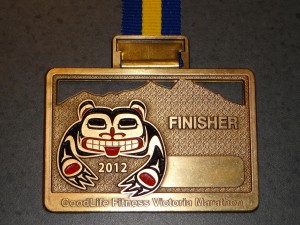 [Philip Harris]