So Long, and Thanks for All the Brains is now available on Kindle
. In it you'll find my story – The Z Word – plus fifty other tales of the undead.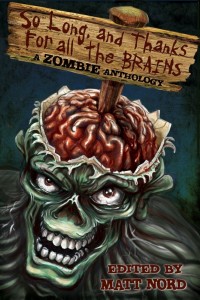 Here's the full table of contents:
Remembering Human – Bint Arab
Necropolis Burning – Robert Forrester
Blissfully Ignorant – Michael C. Dick
An Undead Night to Remember – K. A. Masters
Quality of Life – T. Fox Dunham
Remember Me – Kenneth E. Olson
Undead Surveillance – Jason Papke
Oh, the Dreadful Wind & Rain – Richard Jay Goldstein
The Secret to Survival – T. L. Barrett
Mikey – Theresa Derwin
The Beginning of the End – Jack Bantry
Old Louisville – Bruce L. Priddy
The Return of Dale Corby – Jonathan Wood
For Audrey – Nicky Peacock
The Army of Al-Din – Douglas Moore
Zombies are Dead – Iain Rob Wright
Fractions – Dale Elster
Complete Ignorance – Michael C. Dick
Diary of Gerhard Koblenz – Trevor Smith
The Z Word – Philip Harris
A Quiet Night, a Perfect End – Annie Neugebauer
The Day Danny McAllister Decided to be a Hero – Matt Nord
Dry Rot – Jamal K. Luckett
The Food of Love – Marc-Anthony Taylor
Behind Glass – Michelle Ann King
Zombies Were People – Suzanne Robb
Springfield – C. Douglas Birkhead
Stir-Fired Cerebrum – Anne E. Johnson
Autopsy This! – Indy McDaniel
Blood is Thicker Than… – Bryan Vogt
Deadweed Day – Paul S. Huggins
Destiny's Secret – Stef White
Fur, Claws and Zombies – Iain Rob Wright
The Screaming Dead – J. Rodimus Fowler
My Child Lives – Golda Mowe
She's Waiting – Mihai Boc
Unusual Appetites – Jessica A. Weiss
Folks Like Us – B. E. Scully
Rory Thompson Calls him the Gunslinger – Jack Bantry
Play by Play – Scott Lininger
Not Death, but Dying – Katie Young
Waiting for Gordon – Allen Jacoby
Mary – S. Wayne Roberts
Seven Eight One Five Four – Alyn Day
Goodnight, Sweet Revenant – R. S. Pyne
In the End, We are Like our Fathers – T. L. Berrett
For the Cure – Kristal Stittle
Priorities, Priorities – Theresa Derwin
Live, and Let Them be Undead – Pembroke Sinclair
Planes, Strains and Runaway Meals – Justin Sharples
The Unzoetic Zombies of Oz – Vince Liberato
Teaser Chapters from the Collaboration of the Dead novel
Chapter 1 – Matt Nord
Chapter 2 – Todd Brown
Chpater 3 – GNBraun
Chapter 4 – Zombie Zak
Chapter 5 – Stephanie Kincaid
As you can see that's a lot of Zombies, over 470 pages worth in fact, and you also get the first five chapters from the Collaboration of the Dead novel.