Busy week this week. On Wednesday we went to the Vinyl Cafe Christmas Concert. The tickets were an early Christmas present from my wife but neither of us really knew what we were going to see. It turned out to be a really fun show; a mix of stories by Stuart McLean and music by Hawksley Workman.
The Vinyl Cafe stories feature record store owner Dave, his wife Morley, their two children and in the case of the three stories Stuart McLean read on Wednesday, some ferrets, a car wash and a hockey game.  The stories reminded me a bit of old British comedy shows – there's an innocence to them that you don't see very often any more. Don't get me wrong, I like the sophistication of today's comedy (the good shows anyway) but it was fun to just sit back and be entertained by some good old fashioned fun.
I ended up buying Hawksley's latest CD – Full Moon Eleven – and I have it playing now. His website says his music defies category and I have to agree so I'm not going to try to describe it. Instead, you can listen to his music on YouTube.
This week also saw the early access release of Star Wars The Old Republic – the new Massively Multiplayer Online Game from Bioware and Lucasarts.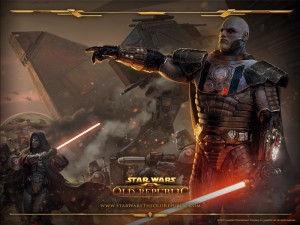 This is significant to me for a couple of reasons, firstly I work at EA and this is a big release for us. Secondly, I'm a sucker for Star Wars MMOs. I played the first one – Star Wars Galaxies – obsessively for quite a while.
Everyone at EA got a free copy of the game (I also bought the collector's edition) and I've already spent upwards of eight hours playing the game. It's a great game and has Bioware's trademark storytelling but it's not going to help my writing.