Mostly day job and shopping yesterday but I did manage to scrape together a surprisingly productive hour of creativity and add another 727 words to F Bomb. That brings the total word count to 1693 and the end clearly into view. My plan is to finish it tonight and although I do want to go back and fill in a bit more detail in a couple of places, I'm still very happy with the story. That's unusual for me so we'll see if that's still the case when I've written the ending.
Weird Fiction Review posted a great story yesterday. Originally published in 1892, The Yellow Wallpaper by Charlotte Perkins Gilman is a wonderfully disturbing tale and it's well worth a read. Of course, if you like your fiction weird then Weird Fiction Review should already be on the list of sites you visit regularly.
In other news, the proofs for So Long, and Thanks for All the Brains arrived yesterday and it's looking very good indeed. Matt Nord has put together a monster collection (over 420 pages of Zombie fiction plus the first five chapters of the upcoming Collaboration of the Dead novel).
And I still love the cover.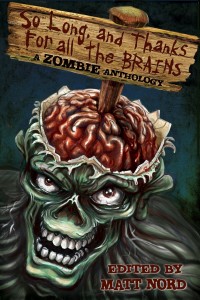 Cover for So Long, and Thanks for All the Brains
That means tonight I need to read through the proofs and get any changes back to Matt. I've already given my story,
The Z Word
, a quick check and it looks great, he's made excellent use of italics to help guide the reader through the story and I think it helps a lot. You'll see what I mean when you buy the book.
You are going to buy it right?