It's time for another interview with a zombie author. Today, I'm talking to Sylvester Barzey, author of the Planet Dead.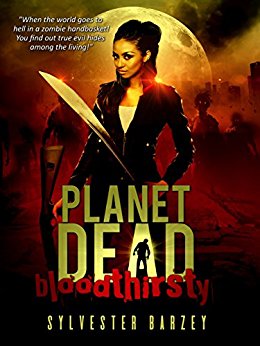 Welcome, why don't you start by telling us about your book…
Planet Dead is my attempt to solve a problem I had with the horror genre. I love horror movies, books, tv shows and comics but as a person of color, I noticed there are very few horror related titles that surround people from different backgrounds.
Most horror movies have a white female lead, who at times starts off weak and comes out strong. Which there is nothing wrong with that, but I wanted a strong female that wasn't made strong by the horrors she saw, but by the life, she lived. I wanted a person of color so I could show the world people of color are just as strong as any other group. They can be heroes and villains, they can be complex in many ways.
The horror genre leads you to believe that people of color can only die first or be the comic relief. Planet Dead is here to break down that old thought process and give people of color heroes they can relate to, all while giving the world and zombie fans a bad ass story.
So pick it up and see a new face in horror.
Why do you write about zombies?
I've always loved the zombie genre because it gives you a whole world of questions. What would you do if your wife got bit? What happens at a pre-school during the outbreak? What caused it? While the overall theme of The Dead walking is basic, the stories aren't.
In the zombie genre you can do pretty much anything and dive into your characters on a deeper level than you could with just action or thrillers.
Why do you think zombies have such long lasting appeal?
I think it's because of the possibility of an outbreak happening. Vampires are awesome and werewolves are cool but we know they do exist and that they won't ever really be the cause of the human race ending.
But a super virus that causes people to go crazy and eat each other? We're always one bad new story away from that. It feels like it could happen, that and everyone likes to think about a world with no rules.
Zombies are just a modern day cowboys. Everyone loved westerns because they gave you this fantasy of what life was like in the Wild West, where you can be the hero of villain and shows like The Walking Dead & Z Nation do the same.
So in short, zombies are an escape that could likely happen.
What would be the most deadly non-human zombie?
Hmm A zombie gorilla? I think that could do a lot of damage. But would a zombie animal need to eat people? Couldn't it just eat other animals?
Sorry my mind is now on Zombie zoos.
What's your favourite zombie videogame?
Is this a real question? Resident Evil! But to be specific RE 4 for the game cube. That knife fight! Crazy!
Which Walking Dead character do you wish they'd kill off and why?
Carl. He's gotten better but his still an annoy pain in the ass if you ask me. I've waited him Dead since he got shot in the woods.
"Baby I'm sorry, I'm not sorry!" *Demi Lovato voice*
Which two household objects would you combine to make a perfect zombie killing weapon and why?
Who am I, MacGyver? Where's my shot gun option? Bug spray and a lighter. I can keep the bugs away, start a fire and flamethrower some walkers when the time calls for it.
What do you think the most likely cause of a real zombie plague would be?
People going crazy and eating people? I would say some super laced drugs. But people coming back from the dead? No idea, aliens?
Do you prefer fast or slow zombies, and why?
Slow if their after me, because it's not gonna be too hard of a fight. Fast when I'm watching a movie, because you feel more concerned when the hero is being chased down by a track star that a fumbling slow zombie.
Which actors would you like to play the main characters in your book?
Taraji P. Henson or Gugu Mbatha-Raw.
What do you think is the most underrated zombie film or book?
Night of The Comet. You don't hear many people talking about it, but it was an awesome movie. I wouldn't mind a good remake.
What authors have inspired you zombie writing?
Bobby Adair, Mark Tufo hmm and Romero! They are my zombie kings and I only wish I could have half their skill.
Favourite zombie book, movie, TV show, or comic?
Z Nation is the best zombie tv show. I'll fight you if you believe other wise and my favorite movie is Day of The Dead the original.
What was the first zombie book/movie that you fell in love with?
Slow Burn by Bobby Adair was and is my favorite zombie book. When I read that book I was hooked and on the edge of my seat the whole time. It was just one shit thing after another for his hero and I felt for him.
What authors have inspired you zombie writing?
Bobby Adair, Mark Tufo hmm and Romero! They are my zombie kings and I only wish I could have half their skill.
Who is your favourite indie zombie author and which of their books should I read?
Bobby Adair and his Slow Burn series are amazing! I believe he still have books 1-3 for free, so check them out. And Christopher Artinian, he's the author of The Safe Haven Series. His books are deeply character based and a breath of fresh air to the genre.
Which of your books do you recommend readers start with?
Where can readers find you online?
Website: http://www.sylvesterbarzey.com
About Sylvester Barzey
Sylvester Barzey is a father, a husband, a soldier, and an "Anything Goes HORROR" writer.
What does "Anything Goes HORROR" entail?
Missing Children
Deadly Wives
Haunted Baby Rattles
A LOT OF DEAD BODIES!
Vampires That Don't Sparkle & Don't Believe In Dating Their Food Source! Would You Date A Cow?
Werewolves
Zombies (A Whole Lot Of F#@king Zombies)
Oh & Some Bad Words.
He writes what he wants and does what he likes and what he likes is HORRIFYING!
Pick up this book or one of his others today.
Something Scary For Every HORROR LOVER!
[
Zombie Q&A: Sylvester Barzey
by Philip Harris first appeared on Solitary Mindset on 12th November 2017]