My short story, Glitch Mitchell and the Island of Terror, has just been published in the new Future Chronicles anthology – The Jurassic Chronicles. (Currently on sale for just 99c!)
To celebrate the launch, I'm running a few interviews here on the site. Today, I'm talking to Terry Maggert about Noble Savage.
What attracted you to the Jurassic Chronicles project?
Other than the quality of Samuel's work? It was a chance to play– without rules– and use dinosaurs with no limits. That's too tempting. I was in.
What was the inspiration for your story?
Naturally, I had a teacher who inspired fear and terror in even doses. This was the fourth grade, and when combined with a love of dinosaurs, it seemed like a logical conclusion to marry time travel, dinosaurs, a matriarchal revolution, and school into one narrative. In other news, I don't sleep much and this seemed quite a good idea at the time. I'll let the readers decide.
Where do you stand on the whole "dinosaurs had feathers" issue?
They did. We have the evidence, the feathers are real, and I for one am thrilled. The vibrancy of those animals must have been something akin to magical.
What are you most proud of about the story?
You never see it coming.
What's your favourite dinosaur movie and why?
The Land That Time Forgot, since it's the only film in which the culinary qualities of a plesiosuarus are properly addressed.Bonus: Doug McClure's chin.
Are there any authors that influenced your story or your writing in general?
I'm a sucker for adventure, so Joseph Conrad, Ernest Hemingway, and Clive Cussler are a big part of my library. With that being said, no one has influenced me– or brought me more joy– than Anne McCaffrey. I'm constantly leaving Easter eggs that reference her worlds. It's an ongoing joy.
Any plans to revisit the world of your story?
If I do, I'll go more heavily armed than the Point team. But– yes. It's worth exploring.
What do you think would happen if dinosaurs were discovered somewhere in the world today?
I think you meant to write, "Terry, where would you be moving when we find the dinosaurs?"
What's your favourite dinosaur and why?
The Allosaurus. I built a model in 1972, and it left an impression. Bonus: I'm fairly certain I could ride one, given the right stirrups.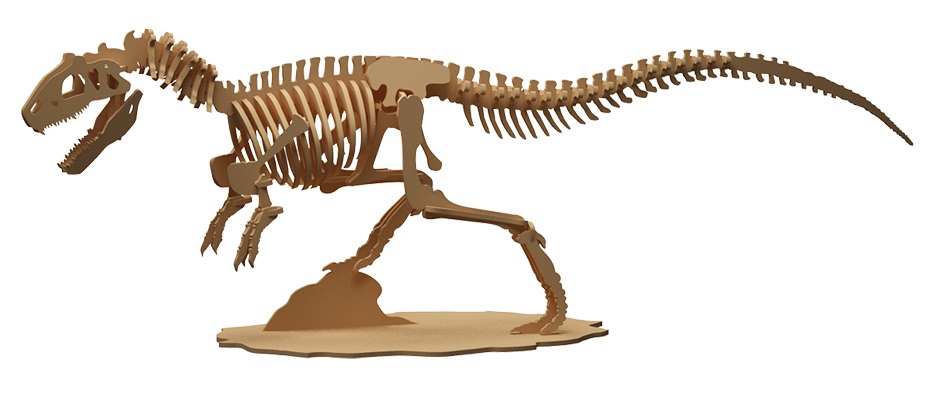 Buy this kit (probably not the one Terry made in 1972)
Once readers have read your story, which of your books/stories should they read next?
Cities Fall. Dragons Rise. War Begins. Banshee. All available from Amazon.
Where can readers find you online? (Twitter, Facebook, Website etc.)
Twitter: @TerryMaggert
Facebook: https://www.facebook.com/terrymaggertbooks/
Web: terrymaggert.com, or wherever there is pie and cream.
About Terry Maggert
Left-handed. Father of an apparent nudist. Husband to a half-Norwegian. Herder of cats and dogs. Lover of pie. I write books. I've had an unhealthy fascination with dragons since the age of– well, for a while. Native Floridian. Current Tennessean. Location subject to change based on insurrection, upheaval, or availability of coffee. Ten books and counting, with no end in sight. You've been warned.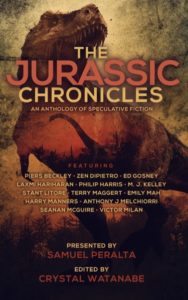 Journey back to the most incredible adventure of all, back through the gates of the Jurassic era, back to a time when dinosaurs roamed the earth.
In this title in the acclaimed Future Chronicles series of speculative fiction anthologies created by award-winning author Samuel Peralta, thirteen authors assemble an array of astonishing tales around creatures extinct for eons, around prehistoric creatures suddenly, and awesomely, made real.
The Jurassic Chronicles features stories by Victor Milán, author of Dinosaur Lords – "a cross between Jurassic Park and Game of Thrones," according to George R. R. Martin; John W. Campbell Award winning author Seanan McGuire; New York Times and USA Today bestselling author Laxmi Hariharan; plus ten more of today's top authors in speculative and science fiction.
Get your copy of The Jurassic Chronicles here – On Sale for just 99c!
Sign up for my newsletter and get four free ebooks. CLICK HERE to get started.
[The Jurassic Chronicles Q&A: Terry Maggert by Philip Harris first appeared on Solitary Mindset on 2nd February 2017]