My short story, Glitch Mitchell and the Island of Terror, has just been published in the new Future Chronicles anthology – The Jurassic Chronicles. (Currently on sale for just 99c!)
To celebrate the launch, I'm running a few interviews here on the site. Today, I'm talking to Emily Mah about Cryptoscience.
What attracted you to the Jurassic Chronicles project?
I love a good theme anthology, and Samuel Peralta's been doing some of the very best lately. I also began my writing career in science fiction, but then ended up with a romance career, which pays the bills. I really wanted to come home to the genre, though, and this was a great opportunity.
Where do you stand on the whole "dinosaurs had feathers" issue?
As I understand it, feathers and scales are structurally very similar. The main difference is the size (I could be completely wrong, there). So it makes sense to me, perhaps according to false information, that they might have feathers. I skirted the issue by not having a dinosaur in my story, but rather a different branch on that family tree, which did have feathers.
What's the setting for your story?
Middle America, because I think that served as a good backdrop for something so out of the ordinary. There's a real cultural cachet of the Midwest embodying honesty and straightforwardness, so I thought it made for a good contrast against this really bizarre, twisted phenomenon encountered by the main characters.
Are there any authors that influenced your story or your writing in general?
Lucky for me, Victor Milan, who is in my writers group, is also in this anthology. We got to read and critique each other's stories before submitting them. Actually, when I saw the Jurassic Chronicles call for submissions, our group was in the middle of reading and critiquing THE DINOSAUR KNIGHTS by Victor, so I was excited to do my own dinosaur spec fic piece.
Any plans to revisit the world of your story?
Heh, my biggest challenge, writing short stories, is to come up with an idea small enough that still is interesting. Hence, in all my paring down of this idea and setting, I kept it so that I wouldn't get carried away on tangents. This is a self contained piece. Victor Milan's story is set in his DINOSAUR LORDS world. He's got three novels in that world and likely could write many, many more, but I struggle to find small stories in big worlds. Hence, I kept it a small world. You'll notice there is a barn, a diner, an old farmhouse, a shack, and a lot of road. That's it.
What's your favourite dinosaur and why?
The Allosaurus because the first dinosaur toy I ever had was an Allosaurus, or at least that's what my dinosaur-obsessed friend said it was. It was probably very inaccurate anyway, because I'm old enough that our understanding of dinosaurs has advanced a lot since those days, but I'll always have a soft spot for Allosauruses. In abstract, that is. If I ever met one in the wild, I don't think affection would be the first emotion to hit.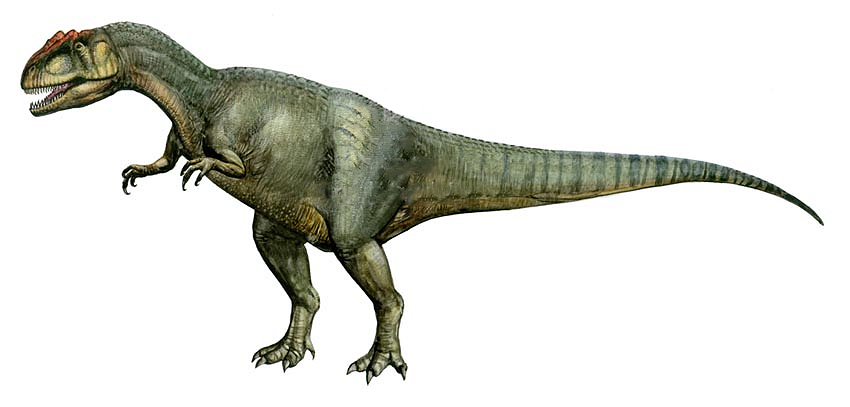 Once readers have read your story, which of your books/stories should they read next?
I am just starting to reboot my science fiction writing career, so I only have a handful of short stories, many of which are very, very rough. You can find them all on my Emily Mah author page on Amazon: https://www.amazon.com/Emily-Mah/e/B007BZVLCI/
Where can readers find you online?
Website: www.emilymah.com
Twitter: @emilymah
Instagram: @emily_mah_tippetts
About Emily Mah
Emily Mah Tippetts writes science fiction as Emily Mah and light romance as E.M. Tippetts. A former attorney, she now supports herself writing full time, and crafting on the side because her subconscious seems to think she doesn't have enough to do. These days she lives with her family in Santa Fe, New Mexico, about forty miles from where she grew up.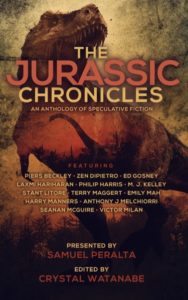 Journey back to the most incredible adventure of all, back through the gates of the Jurassic era, back to a time when dinosaurs roamed the earth.
In this title in the acclaimed Future Chronicles series of speculative fiction anthologies created by award-winning author Samuel Peralta, thirteen authors assemble an array of astonishing tales around creatures extinct for eons, around prehistoric creatures suddenly, and awesomely, made real.
The Jurassic Chronicles features stories by Victor Milán, author of Dinosaur Lords – "a cross between Jurassic Park and Game of Thrones," according to George R. R. Martin; John W. Campbell Award winning author Seanan McGuire; New York Times and USA Today bestselling author Laxmi Hariharan; plus ten more of today's top authors in speculative and science fiction.
Get your copy of The Jurassic Chronicles here!
Sign up for my newsletter and get four free ebooks. CLICK HERE to get started.
[The Jurassic Chronicles Q&A: Emily Mah by Philip Harris first appeared on Solitary Mindset on 31st January 2017]