My story, Glitch Mitchell and the Island of Terror, has just been published in the new Future Chronicles anthology – The Jurassic Chronicles!
To celebrate, I'm running a few interviews here on the site. First up, I'm talking to the editor of The Jurassic Chronicles, Crystal Watanabe.
What attracted you to the Jurassic Chronicles project?
When Samuel invited me, I was, of course, thrilled. I'm always happy to edit another Future Chronicles anthology. I get to work with numerous authors and experience a wonderful range of writing styles.
What did you enjoy most while working on The Jurassic Chronicles?
I love dinosaurs, and I'm a huge Jurassic Park fan (both the book and the movie). Seeing everyone's different take on the subject is always amazing to me since the authors are so creative. One of my favorite things is reading reviews and hearing which stories are readers' favorites, as I like to compare it to my own. And no, I'm not telling which ones those are!
What are you most proud of about The Jurassic Chronicles?
Having my name appear on such a fantastic cover with so many amazing authors and Samuel is a wonderful honor.
What's your favourite dinosaur and why?
I'd have to say the Pteradon, mostly because I watched The Land Before Time at least a hundred times when I was a kid, and my favorite was Petrie.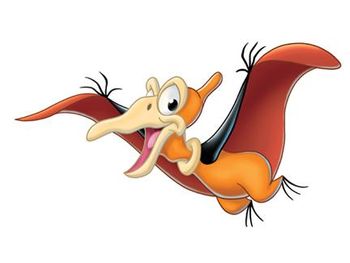 Any plans to do more anthologies?
I'm slated to do Gamer Chronicles next, which I'm super excited about because I'm a former MMO and RTS addict.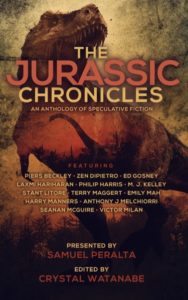 Journey back to the most incredible adventure of all, back through the gates of the Jurassic era, back to a time when dinosaurs roamed the earth.
In this title in the acclaimed Future Chronicles series of speculative fiction anthologies created by award-winning author Samuel Peralta, thirteen authors assemble an array of astonishing tales around creatures extinct for eons, around prehistoric creatures suddenly, and awesomely, made real.
The Jurassic Chronicles features stories by Victor Milán, author of Dinosaur Lords – "a cross between Jurassic Park and Game of Thrones," according to George R. R. Martin; John W. Campbell Award winning author Seanan McGuire; New York Times and USA Today bestselling author Laxmi Hariharan; plus ten more of today's top authors in speculative and science fiction.
Get your copy of The Jurassic Chronicles here!
Sign up for my newsletter and get four free ebooks. CLICK HERE to get started.
[The Jurassic Chronicles Q&A: Crystal Watanabe by Philip Harris first appeared on Solitary Mindset on 29th January 2017]