The Future Chronicles is a fantastic series of anthologies created by Samuel Peralta. Starting with The Robot Chronicles, each anthology has a specific theme from AI to Aliens to Telepaths. Appearing in a Future Chronicles title has long been a bucket list item for me so I'm extremely proud that my story, Glitch Mitchell and the Island of Terror, appears in the latest release – The Jurassic Chronicles!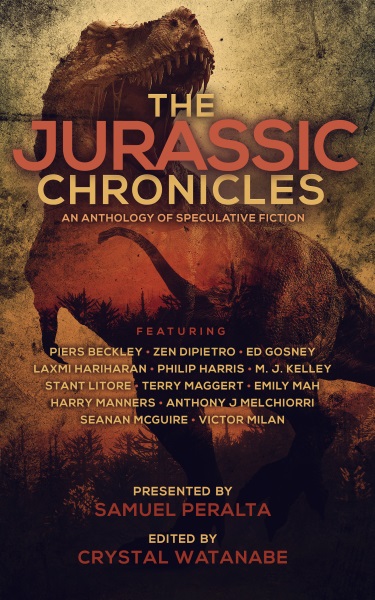 Journey back to the most incredible adventure of all, back through the gates of the Jurassic era, back to a time when dinosaurs roamed the earth.
In this title in the acclaimed Future Chronicles series of speculative fiction anthologies created by award-winning author Samuel Peralta, thirteen authors assemble an array of astonishing tales around creatures extinct for eons, around prehistoric creatures suddenly, and awesomely, made real.
The Jurassic Chronicles features stories by Victor Milán, author of Dinosaur Lords – "a cross between Jurassic Park and Game of Thrones," according to George R. R. Martin; John W. Campbell Award winning author Seanan McGuire; New York Times and USA Today bestselling author Laxmi Hariharan; plus ten more of today's top authors in speculative and science fiction.
My story is a return to the characters from my science fiction novel, Glitch Mitchell and the Unseen Planet. As you can probably guess from the title, it's another pulpy, action adventure tale.
The Jurassic Chronicles launches today and for a limited time, it's just 99c.
If you'd like the chance to  win some prizes and chat to the Jurassic Chronicles authors, there' a Facebook launch party tonight from 6:30 – 11:30 EST. I'll be there.
I've also got a few interviews with Samuel, Crystal and a couple of authors from the anthology that I'll be posting this week.
Sign up for my newsletter and get four free ebooks. CLICK HERE to get started.
[Out Now – Glitch Mitchell and the Island of Terror by Philip Harris first appeared on Solitary Mindset on 29th January 2017]