A while ago, Preston Leigh from The Leighgendarium was kind enough to invite me on to his 30-Minute Author Interviews podcast. We recorded the episode a couple of weeks ago and I had a lot of fun. So much that we ended up chatting for close to an hour about everything from video games to Batman to my hatred of cheese.
You can find the interview on The Leighgendarium and while you're there, check out the other interviews. Preston is a big supporter of indie authors and his interviews are always interesting.
Oh, and we're also running a competition on that page – you could win copies of all my ebooks.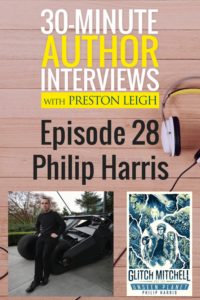 Sign up for my newsletter and get four free ebooks. CLICK HERE to get started.
[Batman. Star Wars. Cheese. by Philip Harris first appeared on Solitary Mindset on 21st December 2016]