For the second of my UnCommon Bodies interviews, I'm joined by Robb Grindstaff. His story, Rudy and Deidre, is described as "A shorter than average man admires a taller than average woman from afar."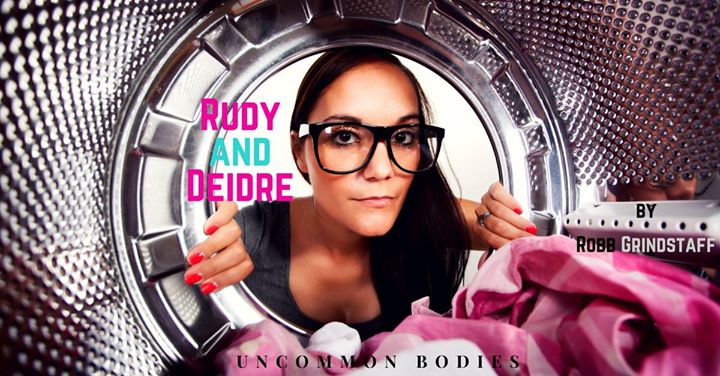 What's your favourite part of being involved in the UnCommon Bodies project?
I've been able to participate along with some writers I've known for quite a while and have a lot of respect for, along with some excellent writers I'd never met before. Writing is, by its nature, such a solitary endeavour, so it's great on occasion to be a part of something a little bigger.
Are there any authors that influenced your story or your writing in general?
In general, a lot of writers over many years. To narrow down the main influences to perhaps the top three (and ask me again tomorrow, I might list a different three authors):
1. John Irving
2. F. Scott Fitzgerald
3. Ernest Hemingway
4. Edgar Allan Poe (yeah, that's four, I know)
What music should readers listen to when they read your story?
None. Read with no distractions. After reading, listen to some melt-your-heart blues and set-your-hair-on-fire guitar. Think Stevie Ray Vaughan and Samantha Fish.
How will you celebrate the launch of the book?
On launch day, I'll get up, have coffee, take the dog outside, then go to work like any other day. The day after book launch, however, I'm going to get together with a large group of family and friends for a huge feast. Oh, but that's Thanksgiving, so I guess that really doesn't have anything to do with the book launch.  don't really celebrate book launches. What makes me celebrate is getting an email or Facebook message from a reader I've never met who enjoyed something I've written.
Once readers have read your story, which of your books/stories should they read next?
All of 'em.
Okay, I'll break that down. My stories tend to be character-driven and character-focused, although that shouldn't be plotless, of course. So if you like to get to know what I hope are realistic, fully developed, three-dimensional characters, then you might enjoy something of mine.
If you like novels, check out Hannah's Voice or Carry Me Away. If you like short stories, take a peek at Sonoran Dreams, a trilogy of shorts all set in the Southwestern U.S. desert.
About Robb Grindstaff
For the past three decades, Robb Grindstaff has managed newspapers from Japan to Germany, from Washington, D.C., to small towns in North Carolina and Texas. The variety of places he has lived and traveled provide the settings, people, and ideas for most of his character-driven writing. He has published two novels with Evolved Publishing, a dozen or so short stories in collections, anthologies, and magazines, including the award-winning "Desert Rain" in Horror Bound magazine. His fiction editing clients include traditionally published, agented authors as well as award-winning and best-selling indie authors. His articles on the craft of fiction have appeared in international writer magazines and websites, and became the basis for a presentation at the Sydney Writers Festival in Australia.
Website/contact: http://robbgrindstaff.com/writing/
Facebook: https://www.facebook.com/robbgrindstaffwriter
Author page on Evolved Publishing: http://robbgrindstaff.com/writing/
Thanks for dropping by, check back on Thursday for the next UnCommon Bodies interview.
You can find out more about my upcoming releases, and get four FREE books by signing up for my newsletter here.
[
UnCommon Bodies Q&A: Robb Grindstaff 
by Philip Harris first appeared on
Solitary Mindset
on 10th November 2015]