Ethel the Muse struck this morning, just as I was getting up. I've had a new story sitting in the back of my mind for a couple of weeks now, and today Ethel decided to provide me with an intriguing opening to get things going.
I didn't want to lose the words so while I was eating my breakfast I fired up Scrivener and wrote the first few sentences. Here they are, unedited and unexpurgated.
It wasn't until the fifth doctor appeared that I really got concerned. Even then, it wasn't just that there were five doctors clustered round the scanner pointed at my leg. That was to be expected. After all, I'd come to the Medical Centre specifically to get a scan, in an effort to find out exactly what was causing the rapidly growing lump on my shin. My concern was triggered by the child-like look of delight on all five of the doctor's faces.
I don't have any idea where the story is going, whether it's a short story or a novel, or even what tone it is, but those things will sort themselves out eventually.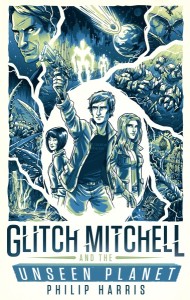 For a limited time, I'm giving everyone who signs up to my mailing list 5 free books, including a copy of my science fiction novel, Glitch Mitchell and the Unseen Planet when it's released later this year. Click here to sign up and get your free books.
[
A New Story 
by Philip Harris first appeared on
Solitary Mindset
on 22nd July 2015]