Today is the big day for Apocalypse Weird with five new books hitting the shelves:


I posted my thoughts on the project on Saturday, but I thought I'd also try something new to commemorate the event. So, I've lined up a series of Q&As with the authors of the five launch titles, and I'll be posting one each day this week.
First up is Michael Bunker, co-author of Texocalypse Now.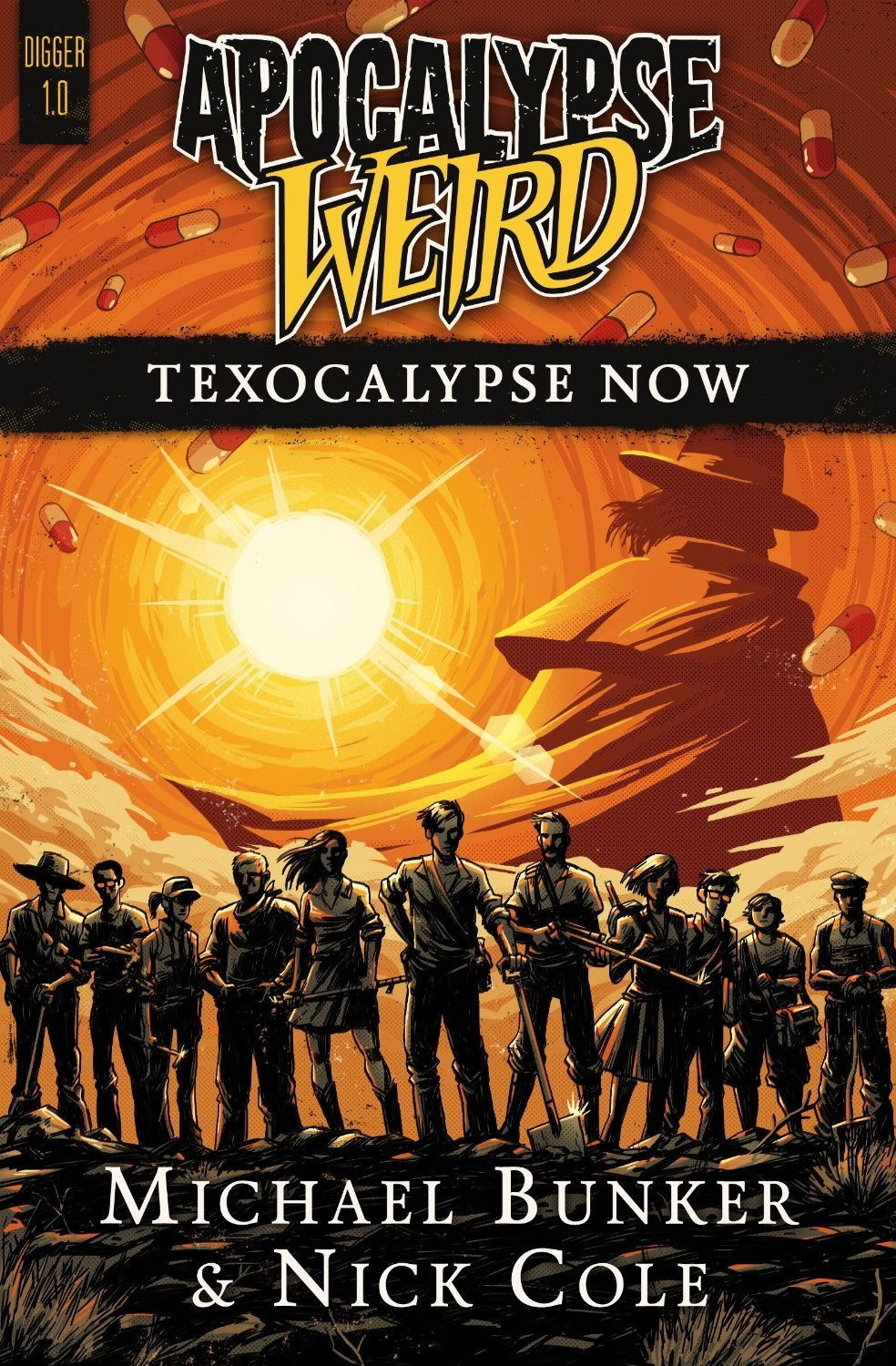 Hi Michael, welcome to the blog.
What can you tell us about the premise of Texocalypse Now and the Digger series?
The overall premise is that in a Central and West Texas gone Mad Max, the apocalypse has left a vast, mostly deserted swath of Texas a dangerous place to be. Some small towns survive… for awhile… boarded up and on the defense. Precious Metal Pirates, biker gangs, and hordes of feral humans made crazy for protein by a diet pill they relied on prior to the collapse, criss-cross the basin looking to murder, salvage, or just consume anything that is left. In a mysteriously uplifted valley, hidden in the cleft of a high mesa, a family of orphans led by a young man probably too young to be in charge, tries to survive and thrive and build a working farm amidst the chaos and ruin of a world gone bad.
Which character in your book do you think readers will enjoy reading about the most, and why?
It depends on the readers! If they like completely evil bad guys and homages to classic apocalyptic literature, they will love Walter (AKA: Mayhem,) who is our main antagonist. If they love the heroic character, they will really want to root for Ellis as he leads his band of orphans against a weird world gone evil. My favorite character? Mr. Vo. Mr. Vo is an old North Vietnamese tunnel rat, who is going to really spark the imaginations of readers who like mystery and suspense.
How did the amazing collaboration that is Apocalypse Weird come about?
That question may end up filling non-fiction books some day. It started with a book idea that Nick Cole and I worked on almost two years ago. That book idea (then entitled "Digger,") evolved into an idea to create an entire brand world and to invite other authors in to help us wreck the world on an unprecedented scale. Nick Cole, Tim Grahl, and I all brought different ideas and concepts to the initial creation of this Community Created Bookverse, and eventually we brought Rob McClellan on board to help us make it all happen. It's been a wild ride, but it started with the first discussions between Nick Cole and me about this book Texocalypse Now and the world-building that sprang from the idea.
Five words that describe your particular Weird Apocalypse…
Mad Max Meets Walking Not-Dead (the hyphenation makes it one word!)
BONUS FANBOY QUESTION: Any plans for a Pennsylvania/Apocalypse Weird crossover?
I think something like that could definitely happen. I've already buried tons of Pennsylvania easter eggs in my upcoming Amish/Robot/Frankenstein book ("Brother, Frankenstein" – coming soon) so I could see some Pennsylvania characters or realities maybe crossing into a foggy region and appearing in Central Texas. In fact, I think it would be perfect!
A huge thank you to Michael for taking the time to answer my questions. Texocalypse Now (and five other Apocalypse Weird novels) are available now on Amazon and the official launch party is happening on Facebook in a few hours. You can join the event here.
 Get a FREE copy of my short story, Only Friends by subscribing to my newsletter.
[
"Apocalypse Weird Q&A: Michael Bunker" 
by Philip Harris first appeared on
Solitary Mindset
on 23rd February 2015]