The first anthology of stories set in the world of Michael Bunker's Pennsylvania – Tales from Pennsylvania – is now available.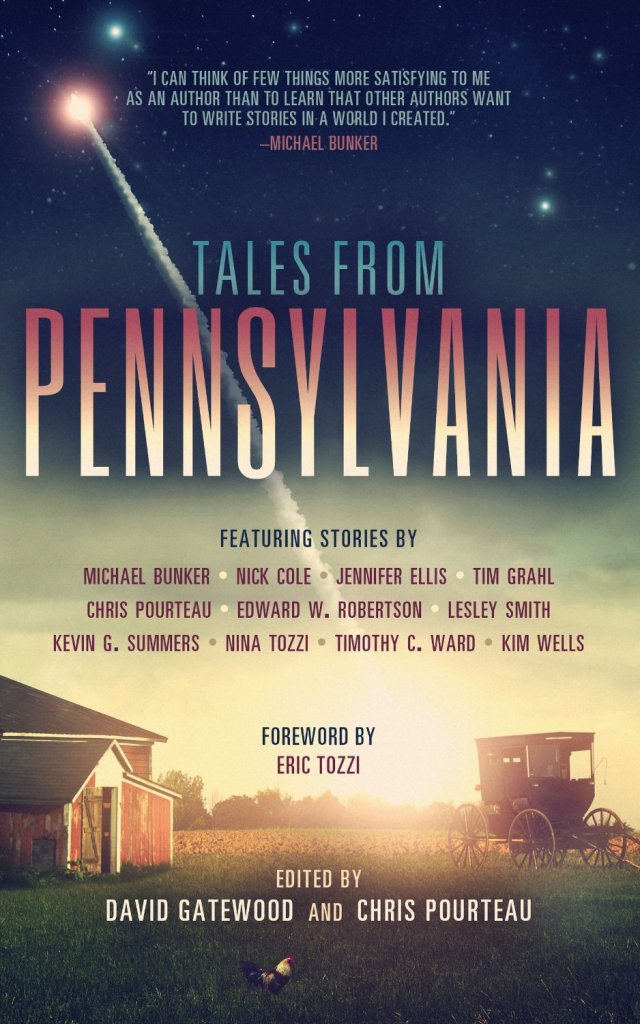 Here's the blurb from Amazon.
Pennsylvania. The groundbreaking dystopian vision Hugh Howey called "a brilliant tale of extra-planetary colonization." Now you can revisit USA Today Bestselling Author Michael Bunker's unique world in this anthology of original short stories—authored by ten of his fellow master storytellers and including a new Pennsylvania story by the creator of the Pennsylvania World himself.

In Tales from Pennsylvania, Transport's ever-growing desire for complete control forges new heroes as imagined by today's leading voices in speculative fiction. You'll meet an Amish family torn between their commitment to pacifism and impossible choices to preserve their way of life. A hacker named Gordian, who's far too good at what she does for the Authority's taste. A former stripper and her club-owner husband, who must learn to fit into Plain society or lose their lives. A young girl, lost in the winter cold and at the mercy of the Wild Ones. A scavenger on the Great Shelf, who befriends a woman he'd only intended to rob. A young Native American girl forced to undertake a journey in time. These adventures and more await you inside this collection.

If you liked Michael Bunker's Pennsylvania, you'll come to love these new heroes. Their tales are heartbreaking. They're exhilarating. They're unforgettable.
I haven't read the collection yet, I have very limited time available to read so I don't commit to reading ARCs unless I know have time to read the book and review it before release. Incidentally, ARC stands for Advance Reading Copy and it's a version of the book sent out before release for reviews etc. It's not Advanced Reading Copy or, even worse, Advanced Reader Copy, which I can only assume is a special edition of the book that has a lot of extra long words or is printed backwards or something.
Anyway, the list of contributors reads like a Who's Who of the indie publishing world and it's edited by Chris Pourteau (author of the first piece of Pennsylvania fan fiction, Gettysburg, among other things) and editor to the indie stars, David Gatewood so I have high hopes for the collection. I've bought my copy and I'll be diving in as soon as I've finished the ARC of Nick Cole's The Red King and Axis of Aaron.
So, if science fiction is your thing, check it out. There's also a launch party going on right now on Facebook. Depending on my workload today, I'll be dropping in and out throughout the day to see what's going on.
Of course, I also need to wrap up the final revisions on my own piece of Pennsylvania fan fiction. More on that on Monday.
[
"Tales from Pennsylvania Out Today"
 by Philip Harris first appeared on 
Solitary Mindset
 on 21st November 2014]