I finally started going through my editor's changes to Glitch Mitchell and the Unseen Planet today. Basically, I couldn't think of an excuse not to. Leah (working title) has gone to its editor, the Glitch cover is progressing nicely (and looking really good) and I'm waiting for editor feedback on the first fifty pages of The Zombie Book.
Yesterday, I delayed things by working on the short story I started at Mary Robinette Kowal's short story workshop – Reg vs The Martians but it didn't go that well and I need to mull over the plot a bit more. That really only left Glitch.
I got through two chapters, about 7,238 words out of 60,823 before I gave up. It turns out I really don't like going through edits.
I had to resort to Bob the Bahamas cat to get myself going again.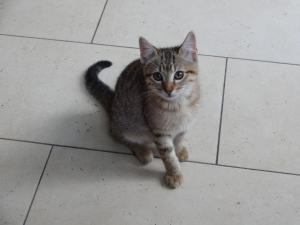 It's a holiday here in Canada on Tuesday so I'm taking Monday off and one of my tasks will be to get through at least three more chapters. We'll see how that goes.
[
"I admit it. I don't like editing."
 by Philip Harris first appeared on 
Solitary Mindset
 on 9th November 2014]