As promised, it's cover reveal time, this time for my third-and-final-for-the-time-being release – Curfew.
Curfew is a post-apocalyptic supernatural thriller featuring a photographer living in a war ravaged city. It's a short story, slightly longer than Bottled Lightning and Saviour at about 22 pages.
Here's the opening
The war had been raging for one hundred and sixty-eight years, two hundred and ninety-four days, seventeen hours, thirty-two minutes and six seconds when I was arrested. No one could remember why we were fighting. Was it north vs south? East vs west? Black vs white? If it had been any of those things in the beginning, it wasn't now. Whatever boundaries there had once been had been blurred to extinction; now there were simply two sides hell-bent on destroying each other.
And here's the cover, courtesy of Humble Nations.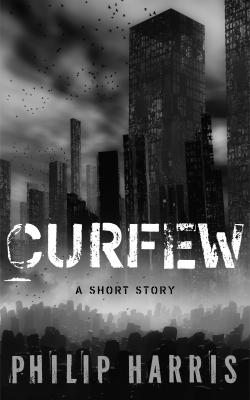 Curfew will be released on Monday, 13th October for 99c in the US and the lowest I can make it in other territories. Kindle only at this point I'm afraid.
And don't forget, Bottled Lightning and Saviour are both available at an Amazon store near you:
Bottled Lightning
US UK Canada Germany France Italy Spain Japan Mexico Brazil India Australia
Saviour
US UK Canada Germany France Italy Spain Japan Mexico Brazil India Australia
[
Curfew
 by Philip Harris first appeared on 
Solitary Mindset
 on 9th October 2014]