I first encountered Clive Barker's writing when I read Cabal. It was the second horror novel I'd read, the first being Barbara Hambly's Immortal Blood (known as Those Who Hunt the Night outside of the UK). I was blown away – it was just such a cool story. I still have my original copy of that book (along with three other versions).
I followed up Cabal with The Damnation Game and Weaveworld and I've been reading and rereading his books ever since. Imajica is still one of my favourite novels and I reread Cabal this year and really enjoyed it – it's aged surprisingly well.
His films have also been a big part of my life. My wife introduced me to Hellraiser (a fact I still find extremely amusing and which went a long way towards convincing me she was someone I could spend the rest of my life with) and it immediately became one of my favourite films. I have multiple copies on DVD and VHS (yes, VHS), including a copy signed by Pinhead himself, Doug Bradley.
I have all the Hellraiser sequels on DVD, even the terrible ones and the Hellraiser/Prophecy crossover fan film – Hellraiser: Prophecy. I love Lord of Illusions and although the movie adaptation of Cabal, Nightbreed, isn't as good as the source material, I still have a soft spot for it. Even the more recent adaptations of stories from his short story collections, The Books of Blood, have been surprisingly entertaining and I've seen some great stage adaptations of one or two of those stories as well.
Clive's hardbacks were some of the few that I kept when I moved to Canada from the UK. I have foreign language versions of The Books of Blood, some of his art books, Hellraiser and Nightbreed comics and graphic novels galore, and several limited edition novellas. Unfortunately, I missed out on the Subterranean Press edition of The Books of Blood and at $1,500, the lettered edition is out of my price range.
The only art we have on the walls of our apartment at the moment are the two Clive Barker prints (Tarrie Cat 1 and 2) that hang beside the desk where I do my writing.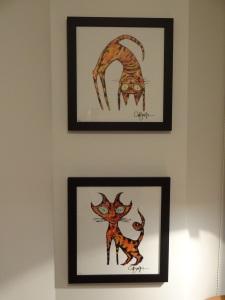 Just this week my copy of the first volume of the art book – Clive Barker Imaginer – arrived and I promptly backed the second volume on Kickstarter.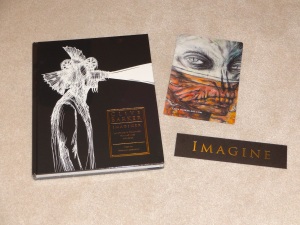 Clive's literary output has slowed somewhat over recent years but the announcement of The Scarlet Gospels featuring two of his most iconic characters, Pinhead and Harry D'Amour, has fans (including me) champing at the bit.
I've never met Clive, unfortunately. Due to a cruel stroke of luck, I moved to Canada the same year he attended the British Fantasy Society's Fantasycon – an event I regularly attended and that would have provided ample opportunity for me to hover nervously in his vicinity. Neil Gaiman was there that year as well and I seriously considered making the trip back to the UK to attend.
Clive Barker is one of a handful of writers that simultaneously inspire me to write and make me want to never touch the keyboard again. I'm pretty sure he made some sort of deal with the devil in return for his talents. His use of language and the depth of his imagination have been an inspiration to me since I first discovered Cabal. When I started writing, I was heavily influenced by Clive's work and I even have a piece of Pinhead fan fiction that will never see the light of day.
Nowadays, I've found my own voice (thankfully) but I still dream of creating something as rich and as memorable as Weaveworld or Imajica. Clive and his work will always hold a special place in the darkest corners of my soul.
Happy Birthday, Clive, and may there be many more.
[
Happy Birthday, Clive Barker
by Philip Harris first appeared on 
Solitary Mindset
 on 5th October 2014]