I've mentioned Michael Bunker's Amish science fiction novel, Pennsylvania, here before and it's been doing very well. Most recently, it cracked the top 100 on Amazon and hit number one in the cyberpunk category. Not too shabby.
Now, Pennsylvania fan fiction is beginning to hit the shelves. First up is Gettysburg: A Tale of the Second War for Pennsylvanian Independence by Chris Pourteau.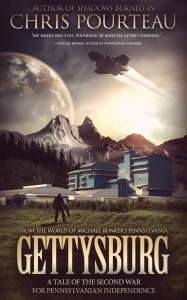 Here's the blurb.
In Michael Bunker's Pennsylvania, Jedidiah Troyer becomes the hero of TRACE's fight against the Transport Authority. But even before Jed's adventure begins, the Second War for Pennsylvanian Independence has raged for a generation. Gettysburg is one tale of that long and bitter struggle.

When we join them in their fight, the forces of TRACE are running out of time. Severely outmanned and outgunned, they know that if they can't find a way to level the playing field with Transport—and soon—defeat is inevitable. Fate presents them a chance to turn the tide of war. A large supply of Transport's okcillium—the all-important material powering laser weapons and other military technology—sits largely unguarded in a small town between the AZ and the City. That town's name is Gettysburg.

But fortune rarely allows history to be made so easily. Tactics, heroics, and bloody slaughter are once again the order of the day as Bestimmung Company sets out to seize their prize. In this small town with a famous name, the soldiers of B Company are about to discover that history has a way of repeating itself.
I hang out on the Pennsylvania fan page on Facebook and Chris offered members of the group the chance to read an advance copy of the book in return for an honest review. It's fairly short (79 pages according to Amazon) but I was hooked from the start and read it in a single sitting.
Like an orange with two skins or a really small onion, the story has three layers.
At its core it's a military science fiction story of two armies battling for resources. Think the Battle of Serenity if you're a Firefly fan.
Wrapped around that core you have the Pennsylvania mythos. I don't think it's necessary to have read Pennsylvania to enjoy Gettysburg, it's a standalone story and doesn't assume prior knowledge. But, if you have read Pennsylvania, it adds an extra dimension to the story.
Finally, Chris has woven elements of the historic Battle of Gettysburg into the story as Easter Eggs for anyone who is familiar with that part of American history.
I really enjoyed reading the book. It's fast paced, tense and a worthy addition to the Pennsylvania universe.
Definitely recommended. On the strength of this, I picked up Chris' horror novel – Shadows Burned In and it's sitting at the top of my To-Be-Read pile, ready for when I finish Cherie Priest's Maplecroft.
The book will be released on 16th September 2014 but you can preorder it now.
[
Gettysburg by Chris Pourteau
 by Philip Harris first appeared on 
Solitary Mindset
 on 14th September 2014]