I've just wrapped up the final tweaks on the second draft of Glitch Mitchell and the Unseen Planet.
This draft clocks in at 55,673 words which is quite a bit less than the first draft – mostly because I cut out a couple of chapters and a few big chunks that just didn't work.
I'm reasonably happy with this new version but it still needs another pass before it goes to an editor at the beginning of July. We're heading out to Banff for the Banff Half Marathon tomorrow so I've printed it out and we'll be taking it with us. My wife will read it and make some notes and then I'll do the same.
This is what it looks like printed out (I've gone for a smaller print size and margins to cut down on the amount of paper we're carrying – probably a bad thing to do but we'll see).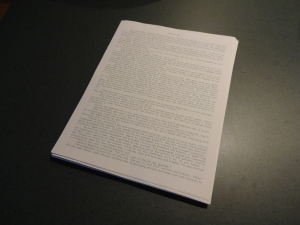 If I'd thought ahead I probably could have found an app that would allow us to read and mark it up on our iPads instead. That would be much better. Should have thought of that before I started sacrificing trees.
[
Glitch – Draft Two Complete
by Philip Harris first appeared on
Solitary Mindset
on 18th June 2014]