I first came across Jason Gurley on the writers' cafe forums on kboards. He'd just lost his job and was selling some very impressive premade book covers. Since then he's become one of the top cover artists for indie authors and the go-to guy for the biggest names in indie publishing including Hugh Howey, Mathew Mather and Michael Bunker.
But he's actually an accomplished author himself. He's probably best known for his Silo novel, Greatfall and the Movement Trilogy. He's also published several short stories and has a collection of them, Deep Breath Hold Tight, coming out on the 13th of May.
I haven't read any of his novels (yet) but I picked up one of his short stories, The Dark Age, in February and was completely blown away.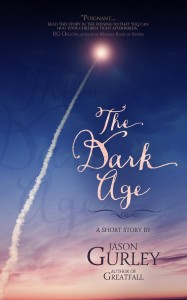 I hate spoilers with a full-on fire raining down from the heavens vengeance so I'm not going to talk about the plot here. I'll just repeat what I put in my Goodreads and Amazon reviews.
A great story stays with you long after you finish reading it and that's exactly what The Dark Age does. A heart-wrenching slice of sci-fi goodness – read this and then go and hug your loved ones.
I was going to write something more here but to be honest, that sums it up nicely.
Jason was kind enough to send his newsletter subscribers (including me) an early copy of Deep Breath Hold Tight and as soon as I finished The Dark Age I put it at the top of my reading pile. The Dark Age is included in that collection and I read it again this morning (thanks, Captain Insomnia). It had lost none of its power. Great stuff.
[
The Dark Age
by Jason Gurley by Philip Harris first appeared on
Solitary Mindset
on 3rd May 2014]