I'm pretty much the opposite of diversity (in fact, I'm pretty sure I'm one of the old white guys mentioned here) but even I recognise that the lack of diversity in children's books is a bad thing. Most children's books feature white protagonists and are written by white authors. Which means they don't reflect their audience – over 50% of US children under the age of one are minorities. And it's not just racial diversity that's missing, sexual diversity is also virtually non-existent, disabilities are rarely represented and mental and other invisible illnesses are ignored.
Which is why a group of people who are much smarter and much more eloquent than I am have put together a campaign to raise awareness – #WeNeedDiverseBooks.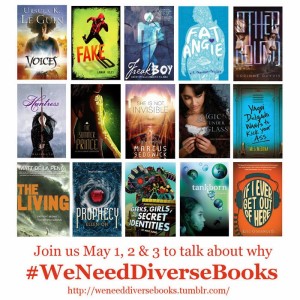 The campaign starts today, May 1st, and runs until May 3rd and you can find all the details here and follow the hashtag on Twitter here. There's lots of ways to get involved and even something as simple as retweeting or reblogging or retumblring will help.
If you're not sure why it's important, here's a couple of blogs you should read – one from Laura Lam and one from Ellen Oh.
[
#WeNeedDiverseBooks 
by Philip Harris first appeared on Solitary Mindset on 1st May 2014]