When I posted on Facebook that I had tickets to see Neil Gaiman, one of my friends commented "Isn't Neil Gaiman an author?" to which I replied "Yes, but he's a rock star author." I was wrong, he's bigger than a rock star.
When we reached the Vogue theatre, about 45 minutes before the doors opened, the queue was already at the block and a half stage, far longer than any band we've seen since moving to Vancouver. Twenty minutes later it had stretched another block and was in danger of reaching Ouroboros status before the doors were opened.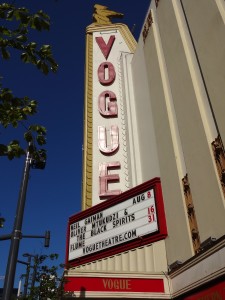 The Vogue is a good venue for this type of event. Large enough to accommodate a reasonable number of people but small enough that everyone gets a decent view and there's plenty of atmosphere. An Evening with Neil Gaiman and Amanda Palmer was held in the Vogue and it's where we first saw Evil Dead: The Musical so it's given us some good memories.
Steadfastly refusing to look at the table selling copies of Neil's books, we got into the theatre just before six. The room was filled with hundreds of politely excited people talking about Neil or books or how they can't grow a real beard or just quietly reading the book they'd brought for Neil to sign.
Neil was, as you'd expect, charming and funny and smart and interesting. He kicked off the evening by introducing The Ocean at the End of the Lane and reading from one of the earlier chapters. Then he moved on to Q&A.
I have to admit, I always get a bit nervous when there's a Q&A session at an event like this. They make me uncomfortable in the same way a good episode of The Office does.
Not everyone is comfortable speaking in front of a large crowd. Normally articulate people dissolve into a gibbering mass of unintelligible fan-goop. People don't make sense. People forget the question. People ramble. My favourite was the woman at a Michael Ondaatje event that spent several minutes on an elaborate back story to her question, only to end with "Where did you get the idea for The English Patient?".
Neil solved that problem for me. The audience submitted questions on cards before the event, then Neil read them out on stage himself. As a result Neil got through a lot more topics, everything from possible sequels to Neverwhere (story coming out soon, a novel maybe sometime soon) and American Gods (yes, he's researching it, but he doesn't know when he'll write it) to recommendations for books with characters with varied sexual orientations, appearing on the Prisoners of Gravity TV show, whether he'd take his shirt off (no) and what it would be like to wander around his mind (a lot like this).
But the story that really struck a chord with me was an observation by another very successful author. During a conversation with Neil, they'd commented to him that he was lucky because no matter what he did, his fans seemed to follow him whereas this particular (unnamed) author could only write one series. If they tried writing something different, no one would follow them to the new work.
And they were right. Neil has a tremendously loyal fanbase. Everything Neil does, whether it's novels, stories, poems, TV shows – people love it. There's an incredible connection between him and his fans and you could see it last night. There were black clad Sandman fans and their Ankh bearing sisters. People clutching battered Neverwhere paperbacks. People cradling precious hardback copies of Fragile Things or American Gods, and of course, numerous copies of The Ocean at the End of the Lane. People held places in the line for friends who'd run to the bookshop to buy a copy of their favourite Neil Gaiman book, only to come back with a completely different Neil Gaiman book because the shop had sold out of the one they really wanted but they bought a different one anyway because…you know…Neil Gaiman.
Every book he mentioned last night, every TV show, every comic got its own round of applause. Part of that loyalty comes from the storytelling magic but there's more than that. There's a connection between Neil and his fans and it runs both ways.  I've lost count of the blogs I've read that mention the time and attention Neil gives to his fans. He genuinely seems to enjoy meeting them and talking to them and reading from his books. That connection, coupled with Neil's startling imagination is a lethal combination.
As if to prove the point, Neil wrapped up the evening with a reading from his upcoming "all ages" book – Fortunately, the milk. Immediately, the entire theatre was roaring with laughter at the time travelling absurdity of a Dad's trip to the corner shop to get some milk for his children, for their breakfast.
In an effort to save Neil's hand, I decided to forgo the signing and head home. After all, I had writing of my own to do and maybe I'd been able to absorb some of Neil's genius while I was in the same room as him. On the way out I glanced at the table selling Neil's books. I ended up buying three new books then went home and bought the audio book of Ocean even though I already have the ebook and a physical copy.
Because…you know…Neil Gaiman.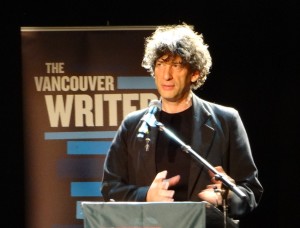 [
Following Neil
by Philip Harris first appeared on
Solitary Mindset
on 9th August 2013]