My wife and I went to see The Conjuring on Saturday. We're both horror fans (it was Ann that introduced me to one of my favourite films, Hellraiser) and we both enjoyed it.
I'm pleased  that Hollywood has finally moved away from the "teen horror" of films like Final Destination and its brief flirtation with torture porn (Hostel 3 anyone?). They seem to have rediscovered the 70s style paranormal horror exemplified by films like The Exorcist and Audrey Rose and I for one approve.
The Conjuring is "based on a true story" – the paranormal investigators in the film, Ed and Lorraine Warren are real people and the film covers a couple of their cases. How true the story is, I don't know but The Conjuring is a solid entry into the haunted house sub-genre. It's appropriately tense and creepy and feels a lot like those older films. Like most modern horror films, it relies on rising tension punctuated by sudden shocks but it's effective and if you like your horror creepy, it's well worth a look.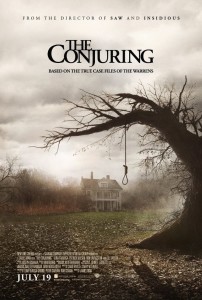 [
The Conjuring
by Philip Harris first appeared on 
Solitary Mindset
on 31 July 2013]