Travis Heermann's new book Sword of the Ronin launched last weekend.
I backed Travis' Kickstarter for this and ended up proofreading the book as well.
This is what I posted about the book after I'd read it.
Sword of the Ronin mixes historical elements with fantasy into a fast paced adventure and I really enjoyed reading it. There's plenty of action and some really effective writing – particularly the part where our hero, Ken'ishi, ends up in…okay, no I won't spoil it. Things get quite graphic in places so bear that in mind, but those scenes worked well for me; particularly that bit where Ken'ishi ends up in…okay, okay, no spoilers.
As Travis himself said recently this book is ideal for people "who also love historical fantasy, non-Western settings, and a great ronin hero who hacks lots of bad people into tiny bits."
To celebrate the book's release, Travis is offering it for free on Kindle until August 3rd.
Bear in mind, it is a sequel to Heart of the Ronin but I haven't read the first book yet and didn't find that a problem at all.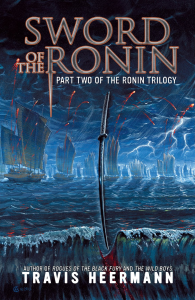 [
Sword of the Ronin
by Philip Harris first appeared on
Solitary Mindset
on 30 July 2013]