If I don't get back to writing soon, I'm going to have to turn this into an Amanda Palmer fan blog but anyway…
Amanda Palmer and her band, The Grand Theft Orchestra, played at The Commodore in Vancouver last night as part of their Theatre is Evil tour and despite the temptation of the Garbage gig that was happening at the same time, I ch-ch-chose Amanda and her Grand Orchestra.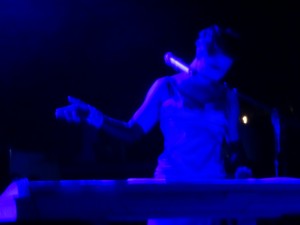 Amanda Palmer
Their set featured a mix of new songs (the highlight being the amazing Killing Type which is an even better song live) and old including a couple of Dresden Dolls classics; finishing off with a masterful rendition of one of my favourite Amanda Palmer songs – Leeds United.
There were also no less than four support acts – Zoey Boekbinder, Ronald Reagan (Boston's premier 80's pop saxophone duo) and two sets by members of The Grand Theft Orchestra – some stunning bass playing by Jherek Bischoff and a couple of songs by The Simple Pleasure featuring guitarist Chad Raines.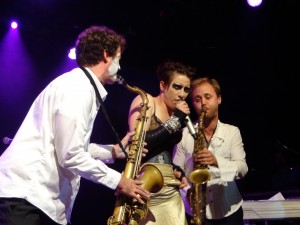 Amanda Palmer and Ronald Reagan
If that wasn't enough, at each stop on the tour, The Grand Theft Orchestra is supplemented by a string quartet and horn players crowd sourced from whichever city the tour is visiting and they clearly enjoyed being part of the band. Great stuff.
Part of the show involved an anthropomorphized fruit competition. My entry of Ethel the Spiky Melon didn't win unfortunately and I neglected to take a photo of my masterpiece but you can find a picture of the end result of someone trying to catch Ethel when Amanda threw her into the crowd here.
Amanda, the band and the crowd were loud, enthusiastic, energetic and occasionally chaotic and it was a fantastic evening.
I also got glitter bombed and came home looking very sparkly.
If you haven't tried Amanda's new album you can pay whatever you want to download it from her website. Check out the support bands as well, they were all amazing.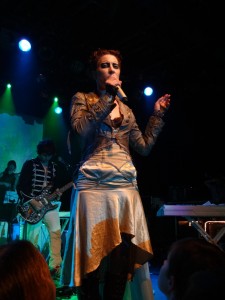 Amanda Palmer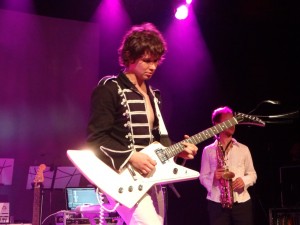 Chad Raines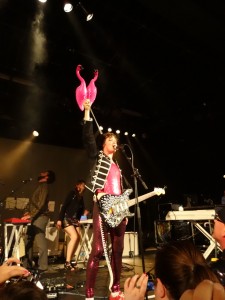 The Simple Pleasure
All Photographs Copyright 2012 Philip Harris