It's been a while since I bought a comic – I limit myself to the odd graphic novel these days – but when Caitlin R Kiernan announced Dark Horse were bringing her character, Dancy Flammarion to comics and that Caitlin was writing the script I knew I'd be heading back to the comic store in the near future.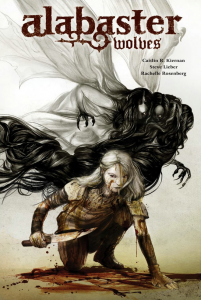 I prefer to read full story arcs without breaks so I waited until I'd got all five issues of Alabaster: Wolves and then spent yesterday evening reading the entire story in one sitting – I wasn't disappointed.
Dancy is a teenager who travels the American South, accompanied by an angel, battling monsters as she goes. Alabaster: Wolves tells the story of…well, I'll let you find that out. Suffice to say, this is a great comic. Steve Lieber's art and Rachelle Rosenberg's colours are a great fit and the writing is filled with little Kiernan touches.
If you like your comics dark, I highly recommend Alabaster – even if you're not familiar with Caitlin's writing. You can preorder the hardback on Amazon, or buy a digital version of the comics (which at the time of writing are on sale) direct from Dark Horse.
I'd offer to sell you mine but I'm keeping them to reread…several times. Thankfully Dancy's story will continue in Dark Horse Presents, beginning with the November issue.
[Philip Harris]