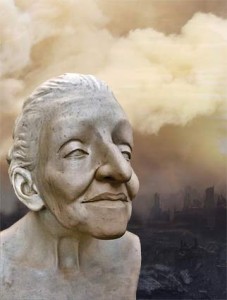 Last night Ann and I spent a very entertaining evening at a puppet show.
Yes…a puppet show.
I know that doesn't sound very rock n roll but these are post-apocalyptic puppets so it's okay.
Ronnie Burket controls and voices all the marionettes in this one man show featuring a blind woman – Penny Plain – and a bizarre mix of  survivalists, a serial killer, a cross-dressing banker, talking dogs and mysterious strangers seeking sanctuary from the apocalypse. The marionettes are incredible, and it's a wildly entertaining show – funny, strange and sad.
If you get the chance to see it, I highly recommend it. For Vancouverites it's on at the Cultch for a few more days and you can order tickets here.
I also got the corrections to The Z Word and a new bio off to the editor of So Long, and Thanks for All the Brains.
Today, I want to finish F Bomb.
Definitely.
No excuses.
Honest.