You get some amazing autumn mornings in Vancouver. Crisp, clean air. Clear blue skies. Bright sunshine reflecting off the sea with snow capped mountains in the background. Wonderful.
Yesterday was not one of those days.
It was cold, wet and grey. It was also the day of the first ever Vancouver Historic Half Marathon and the fifth half marathon that my wife, Ann, and I have run.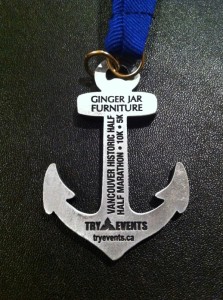 Medal for the Vancouver Historic Half Marathon
The route started at the naval base on Dead Man's Island and followed the seawall around the edge of Stanley Park, looping round twice before finishing back on the naval base. As well as the half marathon there were 5km and10km races along a subset of the Half Marathon route.
It was raining heavily when we arrived but although it stayed pretty gloomy for most of the race, the rain eventually died off and it wasn't as gruesome as we'd initially feared. It was a fairly small race, roughly 400 people with 250 of those running the half so as the race progressed the field thinned out nicely which meant we could focus on running not dodging other runners. The seawall is a beautiful place to run, with views of the sea and the mountains. I wish I could say I'd enjoyed the scenery but I was too busy trying to keep moving.
Although the route was pretty much flat there was one strength sapping hill that really took it out of me the second time round so the last 3km was pretty tough and I posted one of my slower times – 2:09:35.2.
I blame the cold I've been fighting the last week or so.
After a quick (well, very slow) wander around the Grey Cup Festival, I spent the afternoon recovering by sitting on the sofa watching the BC Lions win the Grey Cup at BC Place (which is about two blocks from my home).